As the largest wildfire burning in the U.S. marches across the high alpine forests and grasslands of the Sangre de Cristo Mountains, many in its path have pleaded with God for intervention in the form of rain and calm winds, and protection for their neighbors and beloved landscape.
The U.S. Interior Department says it will release a report Wednesday that will begin to uncover the truth about the federal government's past oversight of Native American boarding schools.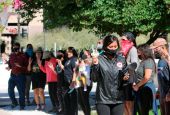 The Biden administration is pulling back an environmental review that had cleared the way for a parcel of federal land held sacred by Apaches to be turned over for a massive copper mine in eastern Arizona.