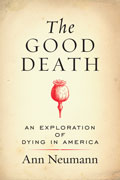 THE GOOD DEATH: AN EXPLORATION OF DYING IN AMERICA
By Ann Neumann
Published by Beacon Press, 248 pages, $26.95
About 40 years ago, dying in America changed dramatically because, as author Ann Neumann notes, "the definition of death changed in the 1970s."
"Up until then, death had meant the almost simultaneous end of heartbeat, breathing and brain function. But a revolution in medicine took place in that decade, developing innovations that could keep the lungs and heart functioning indefinitely."
The result has been at times heartbreaking and even horrifying as people whose brains have, in effect, quit working are kept technically alive by machines that keep their hearts and lungs pulsating to an electric beat.
Even as the emerging hospice movement has provided comfort and needed care for people who know and accept that they're dying, our American medical system, coupled with our death-denying culture, has made it so that many people have been kept from being declared dead even though they are well past knowing whether they are dead or alive.
Neumann, who became a hospice volunteer after the difficult death of her father, writes that those dying in America today "are misunderstood, ignored, underserved, and ill informed."
A lot of that has to do with what she calls "futile care," those medical interventions that cannot possibly do any good: "Precious medical resources [are] being used to torture dying patients. That would be bad enough. But that use prevents applying their benefit to patients who are not dying, whose lives can be improved and saved. In many ways, by pushing dying patients into futile tests and treatments, by avoiding difficult conversations, by ignoring the costs of pain, we are denying those who need these resources a chance to live."
Not exactly a pro-life stance.
Neumann, a visiting scholar at the Center for Religion and Media at New York University, explores these troubling developments through both good reporting and engaging personal memoir, although it's never quite clear why her father's death affected her so severely that she rearranged her whole life to study death issues.
The Catholic church comes in for considerable criticism by Neumann, who grew up Mennonite but converted to Catholicism.
One reason is that, as she reports, Catholic facilities are the second-largest (after the Department of Veterans Affairs) provider of health care in the U.S. So when the U.S. Conference of Catholic Bishops and other Catholic health care policymakers set down rules, it has a giant ripple effect across the medical industry. And those rules can make it nearly impossible, for example, to remove feeding tubes from patients who have fought the good fight but are now ready to accept the inevitability of death.
Catholic hospitals' "refusal to provide some standard services," she writes, "is compounded by the church's enforcement of policy that prevents hospital staff from even informing patients of their full medical options or from referring them to facilities where they can receive desired care, which is why it's impossible to discuss health care in America today without considering the influence that the Catholic Church wields over the industry and the country's pluralistic population."
It is possible to see this influence now in California, where various hospitals -- Catholic and otherwise -- have been opting out of a new aid-in-dying (once called assisted suicide) law that is went into effect on June 9.
But, of course, issues connected to the way we approach death in the U.S. go far beyond Catholic practices and thinking. The reality is that most Americans have precious little personal experience observing death and dying.
"Today," Neumann writes, "80 percent of Americans die in facilities -- hospitals, nursing homes, clinics. When we do see the dying or the dead, it's most often during an abbreviated visit to a hospital ward where doctors and nurses are taking care of the drugging, changing, and bathing. ... Death has been put off and professionalized to the point where we no longer have to dirty our hands with it."
Neumann sought to fix that for herself by becoming a hospice volunteer, which meant spending time with people who were well into the process of dying. In this book, we get both the joys and the gritty details about some of the people she met and served. For many Americans, in fact, these details will be disturbing because so few people even think about what happens to the bodies of people as they shut down and as more and more personal hygiene care must be done by others.
Her experience also taught her the value of hospice care and some of the problems it is encountering because it has succeeded in helping people live longer without constant pain. To be eligible for hospice care covered by Medicare, people must be declared by a physician to be within six months of death. But that determination is an inexact science, and sometimes when people get into hospice care early enough they can outlive that period -- in a few instances by a lot. At which point there can be Medicare investigations and denial of payment.
"In other words," Neumann writes, "the one thing that our medical system gets right for dying patients -- hospice care -- is being penalized for extending the lives of patients." (Disclosure: I serve on the board of Kansas City Hospice and Palliative Care.)
In the end, Neumann decides, "there is no good death. ... But there is a good enough death."
Beyond that, she writes, "there is really one kind of bad death, characterized by the same bad facts: pain, denial, prolongation, loneliness."
And that is what people of faith should be working hard to help people avoid.
[Bill Tammeus, a Presbyterian elder and former award-winning Faith columnist for The Kansas City Star, writes a column for NCR at NCRonline.org/blogs/small-c-catholic.]
Advertisement