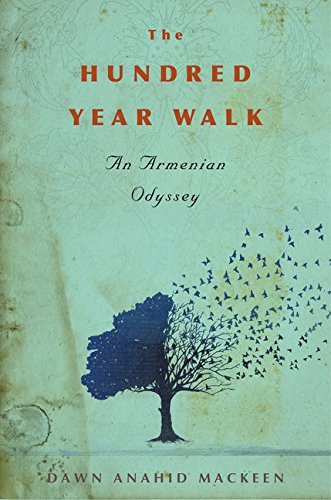 THE HUNDRED YEAR WALK: AN ARMENIAN ODYSSEY
By Dawn Anahid MacKeen
Published by Mariner Books, 368 pages, $15.95
One and one half-million Armenians living in the Ottoman Empire were killed in the years leading up to and during World War I. Stepan Miskjian survived. His granddaughter, Dawn Anahid MacKeen, tells how he beat the odds in her dramatic memoir, The Hundred Year Walk: An Armenian Odyssey, just out in paperback.
Beginning her book with events occurring in 1910, MacKeen offers two narratives that interweave past and present. One tells of her own efforts to follow in Miskjian's footsteps, believing that she needed to embed herself into his experiences in order to bring them alive on the page.
The other tells of her mother's extended family as they lived in the volatile years that led up to the Armenian genocide. Interestingly, as MacKeen notes, the Turkish government still denies that such a genocide took place, arguing that the Armenians were enemies of the state. Saying that historians have rightfully disputed Turkey's take on this, MacKeen tries to set the record straight by presenting the details of what some call the first Holocaust.
MacKeen centers her book on her grandfather, focusing on the years 1914-18, covering his youth as a peddler and later a courier; his conscription into a labor battalion; his exile from his family home; and his struggle to stay alive in Mesopotamian internment camps.
Approximately 100 years later, MacKeen retraced her grandfather's steps. Visiting places and families he may have known, she attended Mass and a town hall meeting at the Holy Martyrs Armenian Church. At another time, she heard the muezzin's call to prayer, which she describes as a "beautiful male voice [that] seemed to rise and fall over the city's hills." Moving from Adabazar — the town in which her family had lived — she crossed the desert and trekked into Syria, where her grandfather, a Christian, was given refuge by an Arab sheikh and his Muslim family.
Meeting the sheikh's descendants, MacKeen says, was a transcendent moment. They treated her as if she were part of their extended family. MacKeen decided to include her own journey in the book, wanting to make the point that "one person's act of kindness can transform a family for generations." Although her decision underscores the importance of kindness, it does detract from the book's unity, making the story somewhat confusing.
Ultimately, her grandfather, though, is the memoir's hero. He pushed his own "physical and emotional limits" as he did everything possible to survive: He prayed; disguised himself as a Turkish soldier; dressed like Lawrence of Arabia; learned Arabic, joined a clan; went without food, walked across the desert with only two cups of water; and became a translator for a German soldier. Miskjian, a devout Christian, depicted his situation as being miraculous. And as his granddaughter tells it, the word miraculous seems just right.
---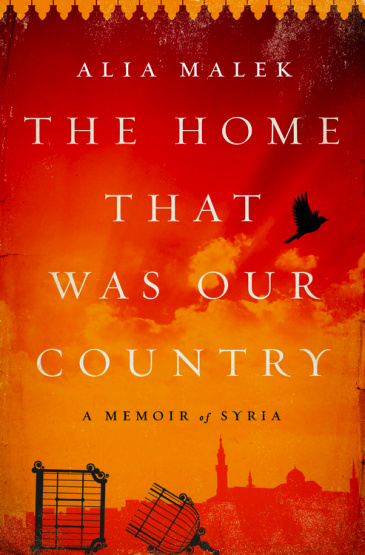 THE HOME THAT WAS OUR COUNTRY: A MEMOIR OF SYRIA
By Alia Malek
Published by Nation Books, 334 pages, $27.99
Since the Arab Spring, more than 11 million Syrians have been killed or forced to flee their own country. Alia Malek's father and mother were fortunate in that they had left the family home in Damascus and come to the U.S. in the 1970s, some 30 years earlier.
After her father had completed his medical studies, the couple planned to move back home again. Then hell broke loose in Syria, and they were forced to change their plans. That's the backstory behind Malek's deeply troubling memoir, The Home That Was Our Country: A Memoir of Syria.
In her first book, In a Country Called Amreeka, Malik, believing that Americans know little about their Arab-American neighbors, composed vignettes profiling 10 Middle Eastern families living in the United States, including her own.
---
See Related: Ethnic bias is no longer an option (Feb. 12, 2010)
---
In The Home That Was Our Country, Malek, a journalist and a civil rights lawyer, focuses on several generations of her own family, beginning with her great-grandfather who was born in 1889 and died in 1970.
Malek also offers an abridged history of Syria, including an overview of the Ottoman Empire, the years of French colonization, the time of independence, and the tumult of the Bashar Assad regime. She examines the region's disparate ethnic and religious groups with their various ideologies, such as the Muslim Brotherhood and the Baath Party. She expands the discussion to include Catholics, Orthodox Christians, Sunnis, Alawites, Jews, Kurds and the Druze. She even cites events occurring in 3,500 B.C.
Although informative, Malek's references to Syria's long history with its numerous political plots and subplots (and their effect on both sides of her family) tend to be a bit of a slog.
Political issues didn't seem to directly affect Malek's family until government soldiers murdered her great-uncle. Then Salma, her grandmother — distraught at the loss of her brother — had a stroke, which left her unable to move or speak. Her condition inspired Malek to learn more about her grandmother and her country's past.
So Malek, 17 and graduating from high school, made the first of several trips alone to Syria, where she planned to restore her grandmother's house and to ask relatives about her grandmother's life. In one of the many ironies in the book, she notes that her parents felt she'd be safer with family in Syria than she would be attending senior week activities at nearby Ocean City, Maryland.
Malek presents Salma as a feminist and an independent thinker even in the midst of a repressive Middle Eastern culture. She mentions significant details like her grandmother's cigarette habit, her stunning emerald green eyes, and her definite preference for the color green, even with regard to her living room curtains.
As Malek tells it, the bitter lemon tree, which her grandmother planted shortly after her marriage to a man she cared for but didn't love, aptly becomes a symbol for the unhappiness of life — both her own and that of her country.
---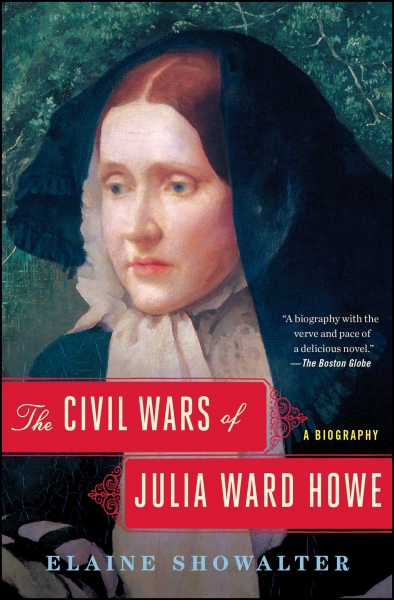 THE CIVIL WARS OF JULIA WARD HOWE
By Elaine Showalter
Published by Simon & Schuster, 320 pages, $17
Most people know Julia Ward Howe (1819-1910) as the author of "The Battle Hymn of the Republic," one of America's most enduring poems, says Elaine Showalter, emeritus professor at Princeton and feminist scholar.
Few know that the passion driving the poem was fueled not just by Julia's sadness at the Civil War, but also by her unhappiness at her lot in life as a woman who, although she wanted to be acclaimed for her poetry, believed she was denied the chance because of her gender. That's the territory of Showalter's engagingly written biography, The Civil Wars of Julia Ward Howe, newly published in paperback.
The educated daughter of a wealthy banker, Julia was stymied by her loving but overbearing father and later by her husband, Dr. Samuel Gridley Howe (1801-76), who, as the head of the Perkins Institute for the Blind, worked for educational opportunities for the disabled while stifling his wife's creative nature.
When Julia wrote "The Battle Hymn" in November 1861, just six months after the national conflict broke out, her personal conflict with her husband had been raging since their marriage about 18 years earlier. Both conflicts inspired the writing of Julia's masterpiece, as did Julia's educational and religious upbringing.
As Showalter explains, Dr. Howe, his wife, and several friends had been visiting an encampment of Union soldiers in Washington. When the soldiers spontaneously began singing "John Brown's Body," Julia was deeply moved because of the sight of the many wounded soldiers and because John Brown, who had been recently hanged, was a friend and fellow abolitionist. That night, the words of "The Battle Hymn" came to her in a dream.
After some slight revisions, she submitted the poem to The Atlantic Monthly, where it was published on the front page in February 1862. It may have helped that Julia had friends among the literary elite, including Henry Wadsworth Longfellow and Ralph Waldo Emerson.
Using biographies, letters and diaries, including those written by Julia's family, friends and contemporaries, Showalter brings her subject to life. She notes personal tragedies like the deaths of two of Julia's offspring — one from diphtheria, the other from typhoid. She mentions literary accomplishments, most of which occurred after Dr. Howe's death. These included numerous speeches, articles and books — one was a biography of Margaret Fuller. Interestingly, Julia believed Walt Whitman was over-praised, and she thought Matthew Arnold had "a positive, square-jawed English mind."
There are several eye-opening anecdotes, as when Julia's father praised his daughter for her published reviews while belittling her for her lack of knowledge of cooking, sewing and child-rearing. Or when Dr. Howe refused to allow his wife to alleviate the pain of childbirth, saying, "The pains of childbirth are meant by a beneficent creator to be the means of leading them [women] back to lives of temperance, exercise and reason."
Ultimately, religion, society, friends and family insisted that Julia should adhere to the homemaker stereotype, but she refused. As Showalter explains it, "The Battle Hymn of the Republic" became America's unofficial national anthem, and Julia's stubbornness paid off on a grand scale.
[Diane Scharper is a frequent contributor to NCR. She is the author of several books, including Radiant: Prayer/Poems. All book reviews can be found at NCRonline.org/books]
Advertisement