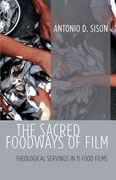 THE SACRED FOODWAYS OF FILM: THEOLOGICAL SERVINGS IN 11 FOOD FILMS
By Antonio D. Sison
Published by Pickwick Publications, 132 pages, $18
I learned early on that food cooked with care and enjoyed with others is a sure sign of love. Childhood memories steeped in long, lingering meals and shared gifts of food tell me this is true.
Of course, it helps that my family has a tradition of snapping pictures not only of people eating the meals we cooked but also of the food itself. People used to think we were strange. I think we were ahead of our time, considering today's enthusiasm for food photography.
In some ways, the abundance of "foodie" films mirrors our love affair with creating and sharing our culinary masterpieces. Dining scenes in film are not unusual, but when food-related subject matter becomes a thematic element, the focus extends well beyond food.
When observed through a theological lens, food scenes invite viewers to correlate this basic human need with spiritual and scriptural symbols of hunger, abundance and salvation.
Given the film industry's age, the combined study of theology and cinema is relatively young. Yet more than 600 books exploring various angles and theological viewpoints exist. Likewise, plenty has been written on the subject of food and theology, which is to be expected, considering the prominence of food and drink in Scripture and eucharistic theology. But this may be the first book on the trio of food, cinema and theology.
The Sacred Foodways of Film: Theological Servings in 11 Food Films by Precious Blood Br. Antonio D. Sison combines all three ingredients in an insightful and entertaining study. "Foodways refers to multiple channels by which food and food-related activities mirror and shape sociopolitical, cultural, and religious identity and relations," writes Sison, who contributes movie reviews to National Catholic Reporter.
It seems natural that Sison, for whom the conversation between contemporary cinema and theology has long been a special interest, would author this book. As a young theology student in the Philippines, where he was born and raised, Sison watched the iconic 1986 Danish film "Babette's Feast," directed by Gabriel Axel. Later, in the introduction to his book World Cinema, Theology, and the Human: Humanity in Deep Focus, Sison recalled the film's impact, calling it "a kind of sacramental moment, a contemplative experience" that offered "an alternative spiritual path to possibility by way of cinematic language."
Through the wide aperture of 11 ethnically, socially and gastronomically diverse films, Sison invites readers to contemplate the foodways of their lives. Sison does not, as he quips in the introduction, just "add theology and mix." Each film is artfully reviewed in situ, analyzed and framed in detail. Although a fuller experience for the reader would include the viewing of each film, the book stands alone.
These summaries are organized into five chapters with themes of hunger, the quest for food, identity, mortality, and the created world. Sison then concludes each chapter with a theological reflection enriched with his own life experience.
Sacred Foodways zooms in on our hunger for human and divine contact. With films such as "Into the Wild" (directed by Sean Penn, 2007), "127 Hours" (Danny Boyle, 2010) and "Angela's Ashes" (Alan Parker, 1999), we see that we are literally saved from starvation by being in relationship with others.
Through "ICHTHUS" (directed by Sison himself, 2006), "The Gleaners and I" (Agnès Varda, 2000) and "Eatrip" (Yuri Nomura, 2009), we learn that it is via this reciprocal alleviation of hunger that we reveal our faith in God's abundance.
With "The Lunchbox" (Ritesh Batra, 2013) and "The Hundred-Foot Journey" (Lasse Hallström, 2014), we see how shared meals remind us of our identity as the body of Christ, and with "A Simple Life" (Ann Hui, 2011) and "Departures" (Takita Yojiro, 2008), we recall what Jesus asked us to do in his memory.
"Beasts of the Southern Wild" (Benh Zeitlin, 2012) provides a glimpse of how the cycle of feeding and being fed echoes the love between Father, Son and Holy Spirit, as it gathers all of God's creation into the great perichoresis, the divine dance.
Sison wrote Sacred Foodways for people who enjoy movies and spiritual reading. My copy is a veritable conversation with the author: Its dog-eared pages are marked up and filled with questions and insights. As such, this book is an ideal study for small groups who might combine chapter reading, film viewing and meal sharing over several months.
Couples may also enjoy sharing the book, as my husband and I plan to do, viewing and discussing each film over a meal cooked with love.
[Susan Francesconi holds a master of arts in pastoral studies from Catholic Theological Union and blogs at thegooddisciple.me.]
Advertisement