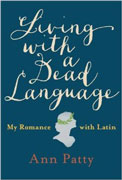 LIVING WITH A DEAD LANGUAGE: MY ROMANCE WITH LATIN
By Ann Patty
Published by Viking, 256 pages, $25
Ann Patty was 58 years old when she lost her job. As she explains in her memoir, she wasn't ready to retire, so she chose what she believed to be the next best thing: Latin, a language that had interested her in the past.
In Living With a Dead Language, she discusses her Vassar classes, classmates, professors, and lessons in Latin vocabulary and word etymology, grammar, syntax, and parts of speech, including the declensions of nouns, cases and moods of verbs, as well as poetry. Two especially rewarding chapters are devoted to the writings of Virgil and Lucretius and their belief (and nonbelief) in an afterlife.
In between, she reminisces primarily about her mother, whom Patty appreciates now that she's dead. In this book, Patty makes her peace with her mother's homemaker lifestyle, revealing that her mom had been an excellent Latin student.
Patty also references her siblings, father, husband, two failed marriages, as well as her heady and then tragic days as a publishing luminary embroiled in scandal over V.C. Andrews' fiction -- ghostwritten and published posthumously.
Patty swings back and forth between present and past as she lets her thoughts meander from topic to topic. Although the technique can sometimes make the book hard to follow, it also enlivens Patty's trek through Latin. As she connects course material with episodes in her own life, she provides a new and generally interesting angle to the topic. In one class, she gives a feminist spin to a presentation on Roman obituaries.
Growing up in the 1950s, Patty feared becoming a woman like her mother, who had been a Roman Catholic but then, for reasons Patty never makes clear, left the church. Patty does not believe in God, yet she prayed when she was recently diagnosed with breast cancer, using the words of one of her favorite poets, e.e. cummings: " 'i thank You God for most this amazing day,' was my prayer."
Arguably, the most interesting sections of the book concern Patty's discovery of Andrews, whose bestselling novels catapulted Patty into publishing stardom. After Andrews died, Patty was accused of extortion. She says she "painfully and publicly" lost her imprint and "was dragged through the national press with my skin off."
She seriously considered writing "a wrathful chronicle about a young woman being screwed by men who stole what she had created." But unfortunately, she didn't. A lawyer had advised her to let the past lie.
Perhaps this memoir is her way of leaving the past behind, but Patty's references to the scandal only whet readers' appetites for the "wrathful chronicle" she briefly considered writing.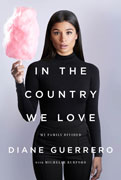 IN THE COUNTRY WE LOVE: MY FAMILY DIVIDED
By Diane Guerrero (with Michelle Burford)
Published by Henry Holt and Company, 272 pages, $26
Diane Guerrero, an actress on "Orange Is the New Black" and "Jane the Virgin," considers the immigration system unfair and proves her point through the story of her difficult growing-up years.
Her memoir offers a troubling account of her childhood with poor but loving parents, her adolescence and early adulthood without her parents but with the kindness of friends, and then of the early years of her acting career.
After her parents -- Mami and Papi -- were deported, Guerrero writes, no government official checked on her. No one seemed to notice that, at 14 years old, she was on her own.
Beset by poverty and gang violence in their hometown of Palmira, Colombia, the Guerreros and their 10-year-old son, Eric, had decided to come to the U.S. on visitors' visas. They would spend their four allotted years with family members who had been granted permanent residence and lived in Passaic, N.J. The plan was to work hard and send money to those family members living in Colombia, where they planned return after a few years.
But after Diane was born, the Guerreros decided to apply for citizenship. They wanted a better life for their children. They also wanted to give them a strong foundation in Catholicism. Guerrero was baptized and received her first Communion at her parish church -- she includes a photograph of herself replete with white gloves, dress and veil.
She attended Sunday school, went to Sunday Mass, received Communion, went to confession, studied the catechism, and said the rosary. As Guerrero puts it, she "didn't just learn the Catholic Way," she "completely embraced it."
Guerrero says she prayed constantly -- even taking out her small flashlight at night and reading through the New Testament that her parents had bought her. She felt a sense of community in the church and believed her faith protected her from her worst fears: that her parents and brother would be deported, since their visas had expired. But the church wasn't able to protect her. Nor, at least from this account, did the church even seem to notice Guerrero's difficulties.
As Guerrero vividly explains it, she came home after school only to find both of her parents gone. They had tried to become citizens but had failed because of bureaucratic red tape and crooked lawyers who bilked them out of their life savings. To make matters worse, these same lawyers may have reported them to the authorities.
As sad as the circumstances are, Guerrero, who is now 30, says her story of anxiety, depression and attempted suicide is all too common. She spends a final chapter citing disturbing statistics like these: There are more than 11 million undocumented immigrants living in the United States. If they are deported, their citizen children are often placed in foster care. According to U.S. Immigration and Customs Enforcement, approximately 6,205 children a year (that's 17 children every day) lose their parents to an unfair immigration system and are therefore forced to grow up in state care.
Although the numbers are staggering, they do not take into account the scores of other children who, like Guerrero, fall off the radar. What happens to them? Guerrero asks. What indeed?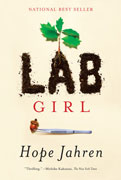 LAB GIRL
By Hope Jahren
Published by Knopf, 306 pages, $26.95
Forty-six-year-old paleobiologist Hope Jahren says she had a difficult time breaking into science. But break in she did. Her memoir shows how she succeeded despite the putdowns she's endured in what is often considered a man's field. Jahren has taught at, and built labs for, three major universities -- including the University of Hawaii, where she now works.
This book moves from Jahren's childhood, to her college and graduate school years, to her work as a professor and scientist. Raised in Minnesota, where the winters are cold and the people are taciturn, she spent her childhood reading books and studying in her father's lab.
He was also a scientist and taught physics and earth science at a community college. Her mother couldn't work or attend college in 1950 when mostly only men received scholarships. So she married, raised four children, then went back to college, majoring in English.
She shared her love for literature with her daughter, teaching Hope to read carefully, to listen to words while noticing the sound and importance of every one of them. Jahren remembers her mother curling her hair while listening to the poetry of Carl Sandburg. Jahren also helped her mother in the garden, where she dug in the rich soil, planted seeds and heard the sounds of bees.
Her memoir contains interesting tidbits about her university experiences with funding projects and department secretaries, who, she says, are the natural enemies of female instructors. There's a harrowing essay about Jahren's struggle with manic-depressive disorder. She also discusses falling in love, marrying and being pregnant while not being allowed to take medicines.
Mostly, though, she writes about adventures she's experienced on the job: an accident on an icy road in Wyoming, a field trip in Georgia with college students, a summer study in the Arctic Circle where she tried to understand why once plentiful deciduous forests died out in Siberia and what this has to do with climate cycles and ocean levels.
Jahren says she grew up in church and can never walk away from it. One can sense her spiritual sensibilities through her careful and thought-provoking observations, which, in their own way, suggests the homage that Jahren pays to nature and its creator.
Interspersing essays about her own life with those describing plants, she discusses various vines, fungi, trees, leaves, roots, soil, grass, flowers and fruits. Writing up-close and with attention to details, she reflects on the attributes of plants as she explains their history and their efforts to survive.
Ultimately, Jahren offers a lively combination of personal narrative and short, sometimes difficult, essays about plants. They're gleaned from years of study and hands-on research. But Jahren (thanks to her mother's inspiration) is also a poet, so her writing is often jewel-like and exquisite.
[Diane Scharper is a professor of English at Towson University. She is a frequent contributor to NCR.]
Advertisement