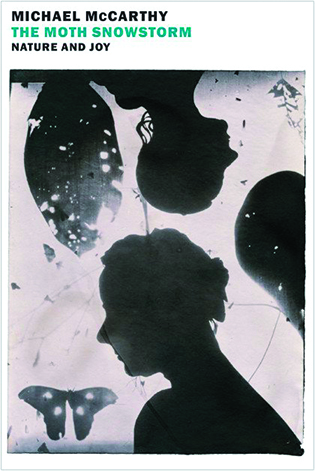 THE MOTH SNOWSTORM: NATURE AND JOY
By Michael McCarthy
Published by New York Review Books, 272 pages, $27.95
After his mother's nervous breakdown and hospitalization, Michael McCarthy shut himself off emotionally. His older brother was given to screaming and crying fits. But the younger boy — 7 years old at the time — coped by acting as though he had never had a mother, or, as he puts it, "with my soul ironed flat on a board."
Then one day, when he saw hundreds of butterflies delicately perching in a Buddleia davidii bush in his aunt's garden, something opened in him. It was 1954. But he remembers the moment and dwells on it in his passionately written memoir, The Moth Snowstorm: Nature and Joy.
The bush seemed to be "crawling" with butterflies. They were as big as his hand: "flashing, dazzling, color combinations: scarlet and black, maroon and yellow, pink and white, orange and turquoise." As he explains it, he didn't just see the insects. He was struck by their beauty. He felt beauty in the sense that Thomas Aquinas defines it, as something that pleases when seen, pleases and promotes a deep, interior rest.
McCarthy's ability to connect to nature's beauty brought him through the trauma of his mother's illness. So did poetry, especially poems by Jesuit Fr. Gerard Manley Hopkins, a favorite of McCarthy's now-deceased mother, who was a devout Roman Catholic and who loved literature. This book is dedicated to her memory, and its epigraph consists of lines from Hopkins, who, along with William Wordsworth, Emily Dickinson, Walter de la Mare, and others, is often cited in this book.
McCarthy's not a poet, but he can write like one. He can also see nature the way poets do. He believes that this kind of seeing is the only thing that's going to save nature from destruction caused by overdevelopment, climate change, and pesticides. That's McCarthy's point, and it is echoed in Pope Francis' encyclical "Laudato Si', on Care for Our Common Home," which came out a few months after McCarthy's book was published in 2015 in England.
Now, with his book's recent publication in the U.S., McCarthy continues making his case that one should care for nature. But care, as he explains, isn't just taking care of wildlife. It's loving it.
One of England's most highly regarded environmental journalists, McCarthy tells two stories in this book. One describes his bond with nature. The other discusses the sorry state of the planet. He holds both stories — tenuously — together by focusing on his personal history, and the book roughly follows a chronological order, beginning with his childhood and continuing to the present.
Along the way, he describes the experiences that have to led his deep attachment to the natural world and his realization of its precariousness as many species have become extinct. At times, his remembrances seem lost in a profusion of details. Yet this seems a nitpick in a vitally important subject.
Which brings us to the second story covered in this book: the story of loss. As a journalist covering the environment for The Times and later The Independent, McCarthy reported from several countries in Europe, Asia and Africa, and he offers chilling firsthand observations of loss.
An especially horrific case concerns Saemangeum, an estuary on the Yellow Sea in South Korea, where a sea wall erected to reclaim land has resulted in a drying and dying estuary, "no longer alive with shellfish and millions of other invertebrates, no longer peopled by numberless waders with their wild cries."
Since 1980, McCarthy writes, China has reclaimed more than 51 percent of its coastal wetlands, including habitats for mangroves and sea grass. Around the Yellow Sea as a whole, such development projects have killed 35 percent of habitat for shorebirds and, McCarthy predicts, "the remainder will go soon."
McCarthy writes, "More than half of all Britain's wildlife, as it existed at the end of the Second World War, has now gone."
He explains that after World War II, the U.K. decided that never again would it be as dependent on foreign countries for food. The British passed laws encouraging farmers to cultivate more land. They did so, and increased their crops by whatever means necessary, which in many cases meant a heavy use of herbicides and pesticides.
Soon problems arose. Calling the process "the great thinning," McCarthy explains that insects died out, as did the plants that depended on them for pollination. Soon, some species of birds, which fed on the insects, were no longer seen. One of McCarthy's favorites, the London sparrow, which was once abundant, has vanished in London.
People are beginning to realize that intensive farming and the use of chemicals are not the solution to the problem of hunger. But in some cases, that realization may be too late.
McCarthy writes that it took people more than three decades to see that "intensive farming was wrecking the natural world." The situation was made worse by the European Economic Community, which encouraged everyone to produce as much food as possible. As McCarthy furiously puts it, "just keep producing, rip out every hedge, fill in every pond, kill off every insect and wildflower that might possibly be competing with you, ruthlessly turn all your acres into a clinical food factory."
Born in 1947, McCarthy writes he was fortunate to live during an age when wildlife was abundant in the U.K. He was able to encounter it, to be changed by it, and to have it leave a deep impression on his soul. Today, he writes, with religion in decline, value systems no longer concern objective good and evil.
This, according to McCarthy, means that people look to secular humanism for guidance on what's right and wrong. Unfortunately, secular humanism doesn't work as a moral compass because it revolves around what works for us right now. And it assumes what's good for us is good. But, as McCarthy writes, that's wrong.
Because of that wrong-mindedness, life on Earth is on the verge of the Sixth Great Extinction. This time, we know who the culprit is, and it's not a meteor or the dawn of a new ice age. It's us.
[Diane Scharper is the author of several books including Radiant, Prayer Poems. All book reviews can be found at NCRonline.org/books.]
Advertisement