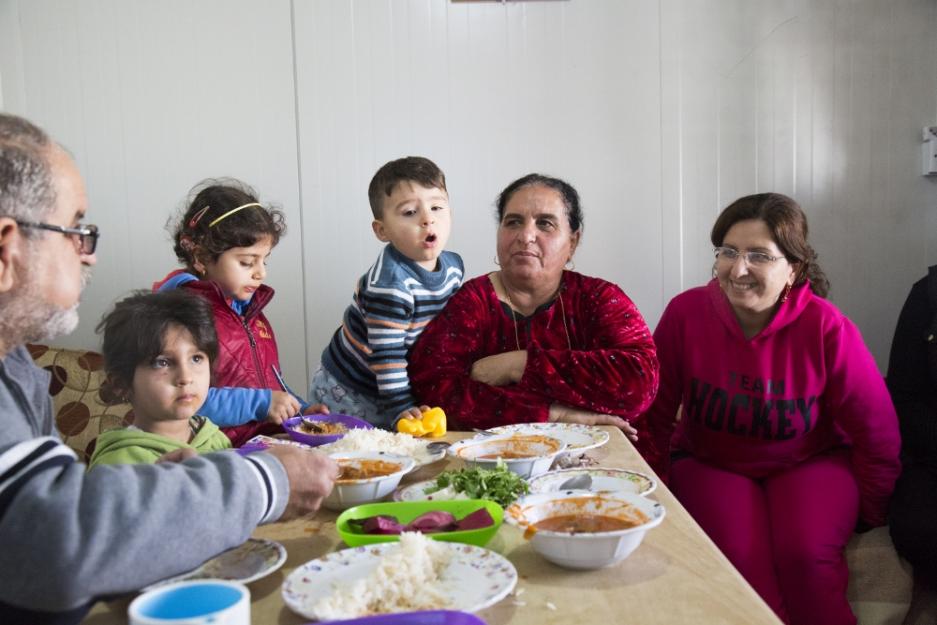 Habiba Daud, second from right, and her family have lunch Dec. 2015 in their trailer at Ashti 2, a camp for internally displaced people in Irbil. The family is from a northern Iraq town overun by the Islamic State group in August 2014. (CNS/Oscar Durand)
Nearly two years ago, the Dominican Sisters of St. Catherine of Siena, fleeing the so-called Islamic State group, left their hometown of Mosul and relocated to Iraqi Kurdistan. Global Sisters Report has been following the sisters ever since in an attempt to keep you, our readers, up-to-date on this important aspect of the ISIS story.
I've written a number of updates (you can read the latest here), and GSR has also featured columns from three Adrian Dominican sisters who visited the makeshift camps where the Iraqi sisters currently minister. Last Thursday, Sr. Maria Hanna -- the Iraqi sister's prioress -- penned a 2015 year-end recap, which seems appropriate to highlight here:
---
Dear Sisters Brethren and Friends,

With the New Year greetings, I extend my gratitude for your continuous support and prayers. Also, I would like to share with you our highlights from 2015.
Thanks to the blessed efforts of people who are accompanying us, we have had an eventful year. In addition to accompanying the Internally Displaced Persons (IDPs) at the camps, sisters were able to prepare 400 children for First Communion in ten groups in different cities and towns in the region of Kurdistan.