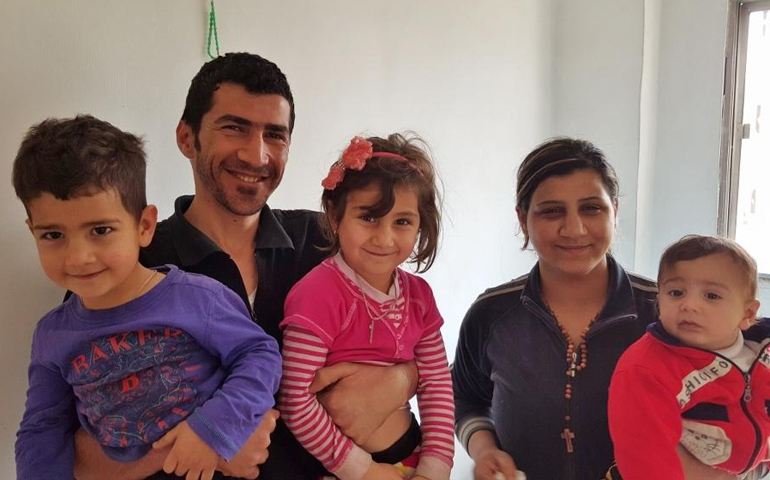 Iraqi refugees Sabhan Jinan Maqadas Hasso and Lina Safaa Najeeb Alkes Asahq and their three children in the Al-Hashni neighborhood of Amman, Jordan. Out of necessity, they say, Easter will be simple this year. (GSR/Chris Herlinger)
Amman, Jordan and Beirut, Lebanon — March 24, 2016
Editor's note: GSR correspondent Chris Herlinger spent three weeks reporting in Lebanon and Jordan on the refugee crisis. While there, he also spoke with some refugees about the significance of the Lenten and Easter season. In this region, Eastern Catholics, some of whom, like Orthodox Christians, celebrate Easter on May 1 this year.
---
For many Christian refugees from Iraq and Syria now living in Jordan and Lebanon, this year's Easter will be celebrated in the heart -- but not necessarily on the table.
On a warm spring day in their bare apartment in the Al-Hashni neighborhood of Amman, Jordan, Sabhan Jinan Maqadas Hasso and Lina Safaa Najeeb Alkes Asahq smiled as they recalled past Easter feasts in their hometown of Mosul, Iraq, when the centerpiece of the meal was a lamb stuffed with meat and rice.
Best not to dwell on the past, said Hasso and Asahq. The family fled war-torn Mosul in early 2015 for Amman. As the young couple and their three young children await word of their official application for asylum and the possibility of new life in Europe or elsewhere, Easter will be a simple affair. Their celebration will be focused on religious observances at a nearby Syrian Catholic Church.
"The most important thing is to celebrate the Mass," Asahq said. An Easter meal can await another year.