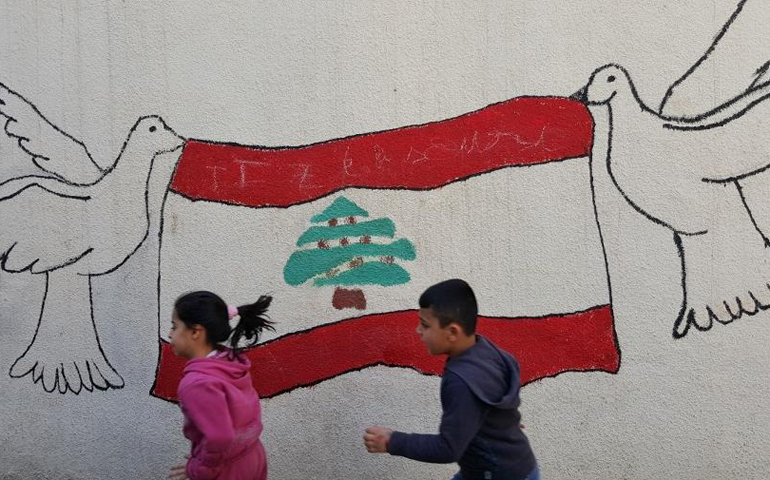 Passing children and the flag of Lebanon held aloft by doves on a street mural in Beirut hold out the hope for peace in a country that has known war. (GSR/Chris Herlinger)
Beirut, Lebanon — May 25, 2016
There are reminders of war everywhere in Beirut.
First, the physical evidence. Even now, 26 years after a long and traumatic 15-year civil war (1975-1990) ended, there are still bullet-pierced edifices that bear the scars of battle. It is odd, even jolting, to walk down an otherwise peaceful street, and in an otherwise prosperous neighborhood, and suddenly pass an old wreckage of a building -- often with weeds and grass growing nearby -- with walls seared by mortar rounds.
But what are buildings compared to the still-haunting memories of those who experienced war, particularly as civilians?
"I didn't have a childhood," Marlene Constantine told me one recent morning as we headed to an appointment in downtown Beirut. Constantine, a project manager at the Catholic Near East Welfare Association / Pontifical Mission, remembers shortly after war broke out in 1975 walking across a street when a sniper started shooting directly at her.
She was nine years old. "I was headed to the bakery -- an old traditional Armenian bakery -- just at the corner of the street to buy bread."
Constantine fell behind a car, trying to find a safe spot. "My friend, a neighbor, thought I was hit." Fortunately, she'd not been shot. But the memory of being immobilized, her friend screaming, "She was hit, she was hit," and the scramble to leave the spot where bullets were raining down remains understandably vivid.
As she navigated Beirut's tricky and dense morning traffic, Constantine told me that, unfortunately, it is not as if there has ever been a full and complete break with the past. Last November, a pair of suicide bombers killed more than 40 people in a Beirut suburb -- an act overshadowed by similar attacks a day later in Paris that drew far more international attention. In February 2005, Lebanon's former prime minister, Rafic Hariri, and 21 others were killed in a massive explosion in downtown Beirut. Hariri's visage as a martyr is still seen all over the city on posters, billboards and the like.