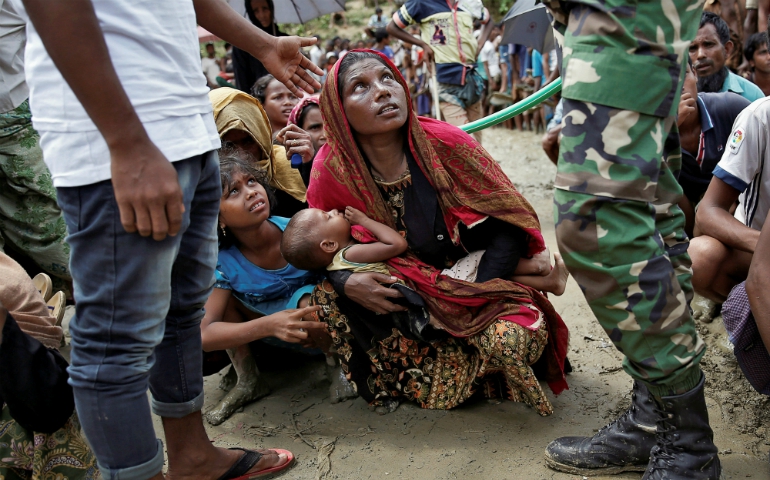 Rohingya refugees wait to receive aid Sept. 27, 2017, at a camp in Cox's Bazar, Bangladesh. (CNS/Reuters/Cathal McNaughton)
New Delhi — September 20, 2018
Issues surrounding labor migration — such as the rights of migrant workers, high fees on wired remittances, and inconsistent policies across nations — were the focus of a recent conference in New Delhi that drew 161 participants, mostly religious, from across Asia.
The three-day conference also examined causes of internal migration in India, including climate change, environmental disasters, and religious and caste conflicts, as well as the desire for better job opportunities.
The Sept. 9-11 meeting, called "Migrant Workers: An Asian-Pacific Experience," was the third such conference globally. The first was held Feb. 22-25, 2016, in Rome for Europeans, and the second was in Nairobi on June 6-8, 2017, for Africans.
Sr. Justine Gitanjali Senapati, who represents the congregations of St. Joseph at the United Nations and participated in the three conferences, says the next conference will be for Latin America, followed by a global gathering three years later. However the dates and venues for those meetings are undetermined, says the member of the Congregation of St. Joseph of Annecy.
Senapati said these gatherings aim to link activists at the grassroots level with U.N. policymakers.