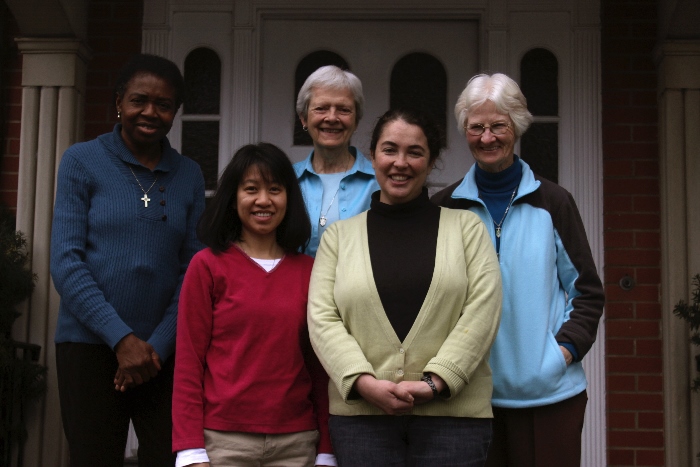 Dominican Community, from left to right: Margret Uche, candidate, Sr. Mary Vong, Sr. Maria Beesing, Ana Gonzalez and Sr. Mary Pat Gallagher. (GSR photo/Colin Evans)
This week, Global Sisters Report presents profiles of four women in formation as part of our coverage of National Catholic Sisters Week. An annual celebration held during Women's History Month and created to honor women religious, NCSW is a series of events "that instruct, enlighten, and bring greater focus to the lives of these incredible women" and encourage more young women to follow their example. The third annual NCSW begins March 8, International Women's Day, and runs through March 14.
______
They are consulting with local clergy, taking online vocation surveys, signing up for "come and see" weekends, moving into convents and monasteries for yearlong immersion experiences, and professing solemn vows. They are professionally seasoned or just starting out; unmarried, widowed and divorced; ethnically and culturally diverse. All over the country, women currently discerning a call to the vowed life are participating in a process of spiritual, educational and community formation that can involve considerable self-scrutiny and present challenges along the way.