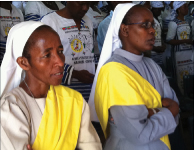 A new website from National Catholic Reporter

Catholic sisters have made countless contributions to human development.
The National Catholic Reporter is embarking on a groundbreaking project, made possible by a grant from the Conrad N. Hilton Foundation, to give greater voice to these sisters and recognition for the important work they do.

GlobalSistersReport.org tells the stories of women religious around the world. Our global network of journalists report the stories of the sisters, while women religious columnists provide first-person accounts of their own work and mission. The website is a one-stop resource for all things Catholic sisters.





We want your input on this project! Contact us to let us know about:
An interesting group or project
A story that needs to be told
A sister who could write for us
An event we should follow
Email: sisters@ncronline.org
Facebook.com/SistersReport
Twitter: @SistersReport