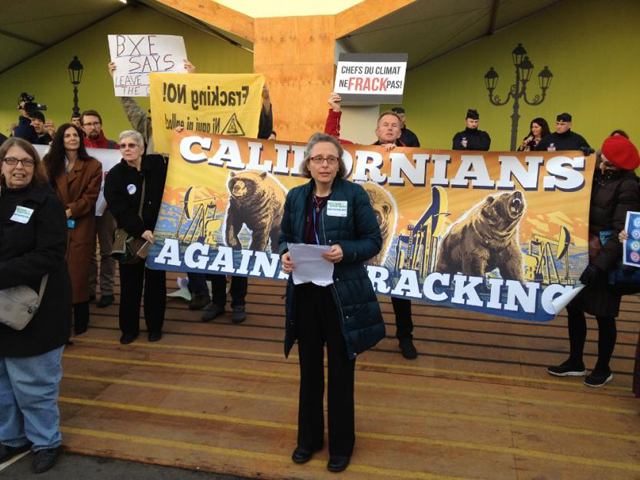 Mercy Sr. Áine O'Conner, coordinator of Mercy Global Action at the United Nations, spoke at a demonstration against fracking. (Elise D. O'Connor)
LE BOURGET, FRANCE — December 11, 2015
As the penultimate day of the Paris climate summit drew to a close Friday, Dec. 11, chants could be heard from one of the forum areas in the center of the public Climate Generations space adjacent to the official COP21 site: "Black Lives Matter!" "One-point-five to stay alive!" "Keep the oil in the soil!"
Dozens of African-Americans from a number of organizations, including the NAACP and the Pan African Climate Justice Alliance, and students and faculty from historically black colleges and universities were in Paris calling for climate and environmental justice. The group was led in chant by Sarra Tekola, a 21-year-old environmental sciences graduate of the University of Washington who said they were there in solidarity with the people of the "global south" and other frontline communities suffering the climate effects of racism and colonialism.
"Sixty-eight percent of African-Americans live near coal-powered plants," Tekola said. "We're calling for reparations to the 'global south,' for no more than 1.5 [degrees Celsius increase in global warming] to stay alive, and disinvestment to keep the oil in the soil."
Tekola is part of It Takes Roots to Weather the Storm, an intergenerational delegation of more than 100 U.S. and Canadian youth and veteran leaders of grass-roots and indigenous community organizations working for economic, racial, gender and climate justice. It Takes Roots is an example of the growing "intersectional" movement uniting grass-roots organizations across peace, social justice, civil/human rights, gender, indigenous, and environmental issues. Its focus is on community-based and community-led solutions to addressing climate change.