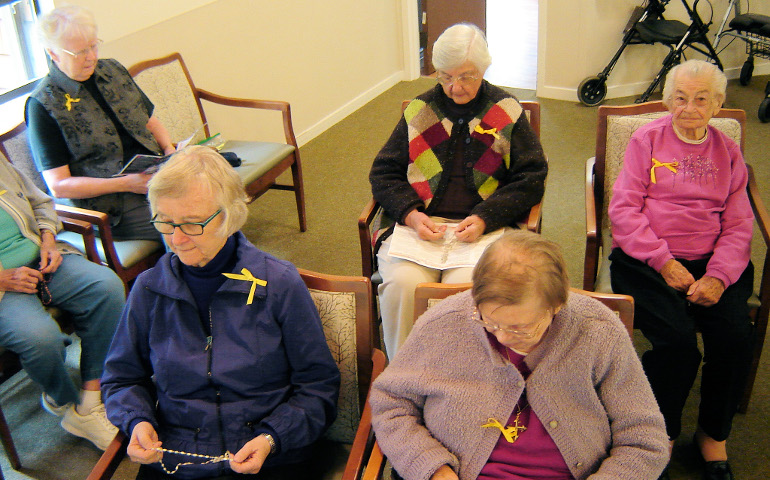 A group of Dominican sisters pray the rosary in the chapel at Lourdes Convent in San Rafael, California. Their yellow ribbons mean support for taking in two single mothers and their children. (Courtesy of the Dominican Sisters of San Rafael)
San Rafael, Calif. — April 13, 2017
Several Dominican Sisters at Lourdes Convent in San Rafael, California, wear small yellow ribbons on their lapels to show their commitment to converting their convent's yellow-walled corridor of bedrooms into a temporary housing unit for two women who are homeless and their young children.
But their plan, which they said they developed after prayerful discernment about how to respond to Pope Francis' call for mercy, is stalled by legal appeals filed by the convent's next-door neighbor, attorney Christopher Dolan.
Dolan, head of a 15-lawyer personal injury firm in San Francisco, contends that providing a temporary-use permit for the conversion violates the city's zoning laws and should not be allowed. So far, city officials disagree.
The city's interim zoning administrator approved a temporary-use permit in January. Dolan and another neighbor filed appeals to the city's Planning Commission, which rejected their appeals in a 6-0 vote March 14.
Other neighbors, advocates for people who are homeless, and some of the 30 sisters who attended the hearing testified in favor of the plan.
Sr. Patricia Simpson, administrator at Lourdes, told the commission that the request flows from the community's vision statement "affirming the inherent dignity of each human person while working for transformation of attitudes and systems that deprive any person of dignity. ... We can do no less than offer our space to those who are working to pull their lives together."
Interim Zoning Administrator Paul Jensen wrote in his staff report, "Given that the [sisters'] proposal maintains the basic residential use of the yellow hallway area, is limited in size and would not result in any expansion to or substantial physical changes to the property, a property rezoning or amendment ... is not warranted," according to the Marin Independent Journal.
The newspaper also reported that Gerald Belletto of the Planning Commission called the proposed project "a great opportunity for the women and children who would be housed there." He noted that Lourdes formerly housed many more people than what the sisters are now requesting, which is for two mothers and up to four children under 8 years old to live there for up to two years.