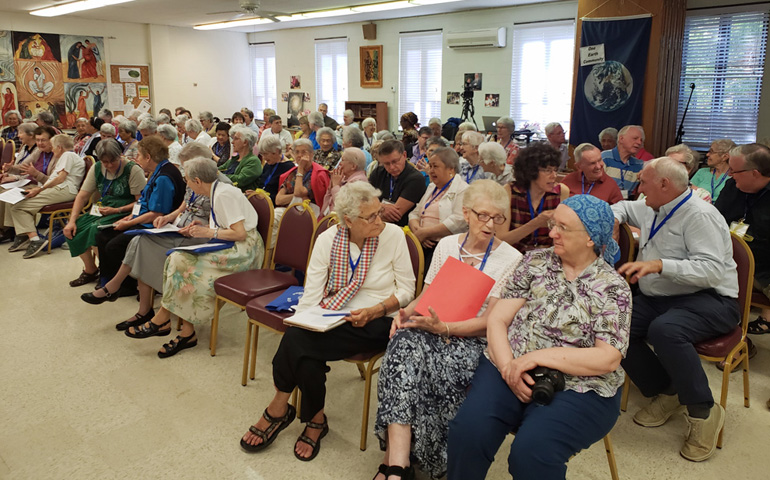 Participants of the 50th anniversary celebration of the Maryknoll Mission Institute held June 7-9 at the Maryknoll Sisters Center in Ossining, New York (GSR photo / Chris Herlinger)
Ossining, New York — August 29, 2019
A visitor to Sr. Margaret Donovan's office at the Maryknoll Mission Institute is inevitably drawn to a prominent sign on her desk that reads, "Good vibes only."
That's no accident.
"Why waste your energy on negative stuff?" said Donovan, now in her sixth year as the institute's director following 43 years of service as a Maryknoll missionary in Tanzania. "I don't think we get energy from frustration. Our mission is powered by love."
It is also powered by a keen sense of dedication, respect and loyalty by the thousands of missionaries, sisters, brothers, priests, educators and lay church members who, in the last 50 years, have sought continuing education and renewal during the institute's annual programs.
The programs are now held from May through July at the institute's home at the Maryknoll Sisters Center in Ossining, about 30 miles north of New York City. In September, two additional programs are offered: at the Maryknoll sisters' retirement residence in Monrovia, California, and at the Maryknoll Fathers and Brothers Residence at Los Altos, California.
While a three-day 50th anniversary celebration at Maryknoll in Ossining was carved out to mark the institute's landmark jubilee, the normal run of six-day-long courses for 2019 revealed substantial riches, with topics such as the meaning of holiness, the spiritualities of Thomas Merton and Pierre Teilhard de Chardin, missiology in the 21st century, Celtic spirituality, and visual art focused on the "heart of the cosmos" by an oblate of St. Francis de Sales.