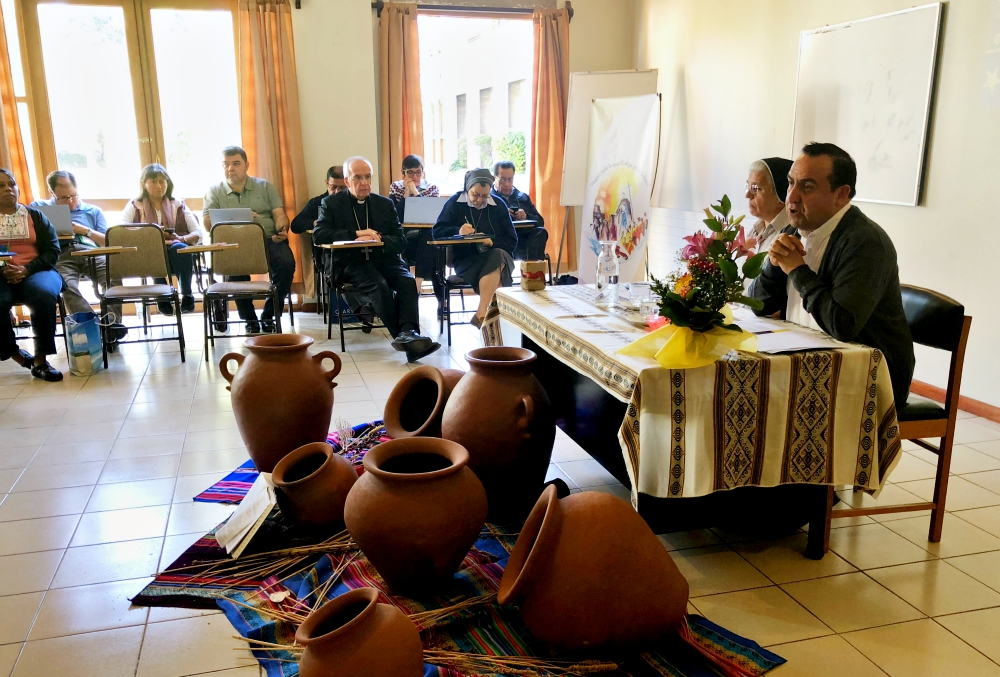 Good Shepherd Sr. Adela Reyes and Viatorian Fr. Marcelo Lamas contextualize how Chile experienced the abuse crisis and shared lessons learned to the greater Latin American and Caribbean religious conference March 18 in Santiago, Chile. (GSR photo / Soli Salgado)
Santiago, Chile — April 2, 2019
Opening the annual gathering for the Caribbean and Latin American religious confederation (CLAR) in Santiago, Chile, two representatives from Chile's religious conference contextualized their country's abuse crisis for their fellow men and women religious March 18.
Good Shepherd Sr. Adela Reyes and Viatorian Fr. Marcelo Lamas offered a message on behalf of the Conference of Major Superiors of Chile's Religious (CONFERRE), sharing how the Chilean religious experienced the 2018 clergy sex abuse scandal and offering what they have learned since.
Every year for its gathering, CLAR chooses a location relevant to that moment in history, and in August, it selected Santiago to host the March 18-20 meeting and its 60th anniversary.
"We felt that the Chilean church was especially hurting, and we wanted to recognize the church's sins," said Company of Mary Sr. Liliana Franco, president of CLAR. Traveling to Chile as a conference was both to demonstrate solidarity with the victims, as well as way of communicating hope, she said.
Kicking off the first day of the conference, Reyes said she experiences the church's crisis "as a family crisis," calling this a "difficult, painful, shameful time, which provokes a lot of anger and distrust of the hierarchical structures of the church."