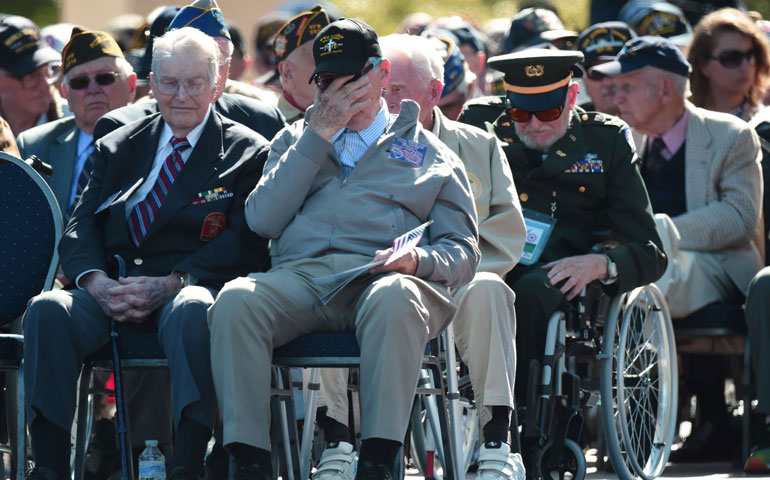 World War II veterans attend a joint French-U.S. ceremony at the Normandy American Cemetery and Memorial in Colleville-sur-Mer, France, June 6, marking the 70th anniversary of D-Day. (AFP/Getty Images/Damien Meyer)
The June 6 commemoration of the 70th anniversary of D-Day raises a critical question about the wars we've fought since and are continuing to fight today: Is a necessary war necessarily good? The 4,413 Allied lives sacrificed on June 6, 1944, proved only a down payment on the estimated 15 million Allied military lives that would be the war's closing cost. Even those numbers fade into the page beside the countless civilians (70 million to 100 million) who may not have given but surely lost their lives to a conflict known ever since as "the Good War."
"What's in a name?" we wonder with Shakespeare. A rose by any other name might smell as sweet, but how does any war get the name "good"? And how does such a name stick for 70 years? In his speech at the Normandy American Cemetery and Memorial overlooking Omaha Beach in Colleville-sur-Mer, France, President Barack Obama provided the answer: "Omaha -- Normandy -- this was democracy's beachhead. And our victory in that war decided not just a century, but shaped the security and well-being of all posterity. ... People cannot live in freedom unless free people are prepared to die for it."
In other words, there are moments when nations must forget the cost and fix their eyes on what must be done. Omaha Beach and all the war's bloodlettings were apparently "good" in the sense that they were "necessary," necessary because "people cannot live in freedom unless free people are prepared to die for it." If there is consensus about World War II, it is that the war was necessary, which is all that most people need to declare it good and -- why not? -- just. But is necessity enough to make a war just, much less good?
More than any other event in modern memory, World War II represents the capstone of the just war tradition. It proves, for nearly everyone, at least in Europe and the United States, that there is such a thing as a just war, a good war, a war that can be waged without scruples. In his highly touted book The Unforgiving Minute: A Soldier's Education, West Point graduate and Rhodes Scholar Craig Mullaney relates how during his basic training, when he struggled to reconcile his moral code and religious upbringing with the fact that he was being trained to kill and to order others to do the same, he sought out his Catholic chaplain, who put his qualms to rest by asking, "Do you believe in a just war?"
"I think so, Father," responded Mullaney, adding, "like World War II?"
Believe is the operative word here. One faith, it seems, may be used to trump another. The proof for the existence not of God but of just war, is clearly "the Good War," the war against Hitler and Hirohito, the war against evil, and the accompanying assumption that seems to need no proof is that a war against evil cannot possibly be itself evil.
But are "necessary" and "good" the same thing? Many combat veterans, more now than ever before, are asking this question and coming up with an unsettling response. Even as we remember and revere our oldest veterans, we need to respect and listen to our youngest ones.
One such veteran is Timothy Kudo, a Marine captain who served in both Iraq and Afghanistan, and published a piece in The Washington Post in January 2013, titled "I killed people in Afghanistan. Was I right or wrong?" This was a question that, by his own admission, he never examined or resolved until his return home. "We were simply too busy," he explained, "to worry about the morality of what we were doing."
Now, however, he thinks about it every day, because he knows and lives with the "ethical damage" that killing does to the killer, which he admits "may be worse than the physical injuries we sustain." The best he can offer, he says, is to say, "Killing is always wrong, but in war it is necessary."
As was soon made vociferously clear, Kudo's "best" was not good enough for some armchair patriots back home, who support the troops, welcome them home, and don't want to hear what they have done or learned. Thanks for your service, but no thanks for your comments. It was the personal experience and inner aftermath of combat that led Kudo to question the morality of killing, even in war.
Kudo has been called "morally confused," but the truth may well be that he has come to a moral clarity shared with a great many combat veterans, past and present, a truth that explains why so many veterans, having served with honor, are haunted more by what they have done than by what they have endured in war.
Calling World War II "necessary" rather than "good" in no way diminishes the indescribable courage and self-sacrifice of its combatants, but it may help explain why our veterans, then and now, have found themselves so haunted when they return.
[Robert Emmet Meagher, professor of humanities at Hampshire College, is author of Herakles Gone Mad: Rethinking Heroism in an Age of Endless War, and (forthcoming in the fall) Killing From the Inside Out: Moral Injury and Just War.]
A version of this story appeared in the July 4-17, 2014 print issue under the headline: Is a necessary war necessarily good?.