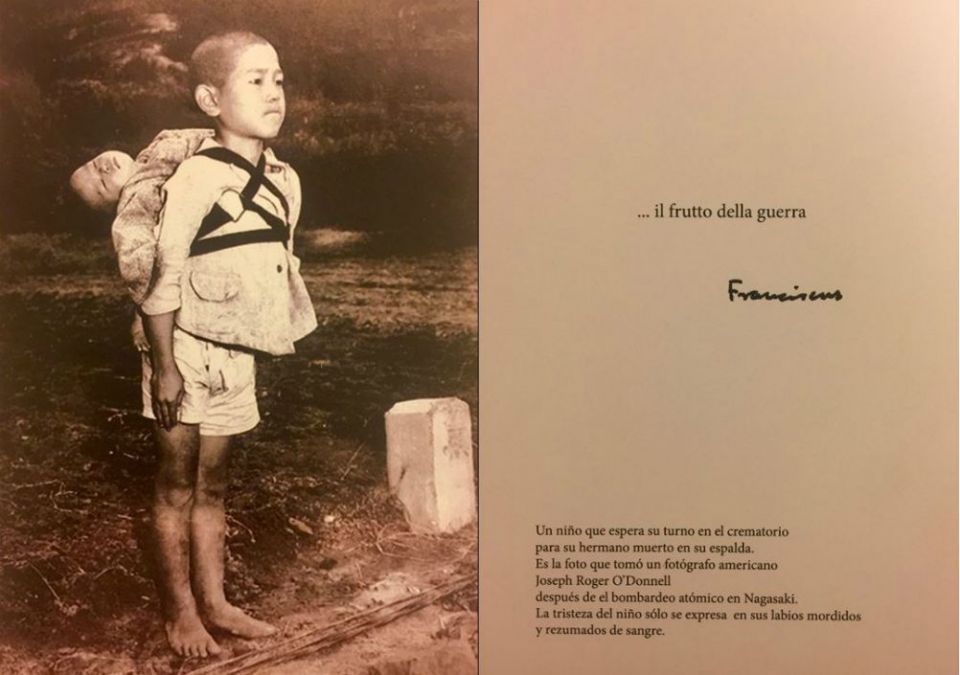 This 1945 photo taken after the atomic bombing in Nagasaki, Japan, was released Dec. 30 by Pope Francis. The photo by U.S. Marine Joseph Roger O'Donnell shows a boy carrying his dead brother on his back as he waits his brother's turn to be cremated. The back side is signed by the pope and above his name it says in Italian "...the fruit of war." (CNS/Joseph Roger O'Donnell via Holy See Press Office)
Opinion:
Sr. Jeannine Gramick reminds LGBT Catholics that the "Sisters are on their side."
Over at the PrayTell blog, Benedictine Fr. Anthony Ruff makes some predictions about the church for 2018. You probably don't need special powers to guess that Mass attendance in the West will continue to decline, but his other predictions about women deacons, married priests, Cardinal Sarah and "reform of the reform" are interesting.
The controversial Basilica of the Sagrada Família in Barcelona, Spain, will be the world's tallest church when it is completed (if it is). Our reviewer of a book about the architect Antoni Gaudí and his masterpiece enjoyed the stories, but would have liked some photographs.
Sr. Mary Ann McGivern, a Sister of Loretto, plans to participate in the People's State of the Union. Details on how to create your own Story Circle are here.
Listen up!
A number of Catholic podcasts took the holidays off, but not NCR's: The #MeToo movement is the subject of the NCR in Conversation podcast from last week, with guests exploring Catholic connections of theology and women religious to the explosion of reports of sexual harassment.