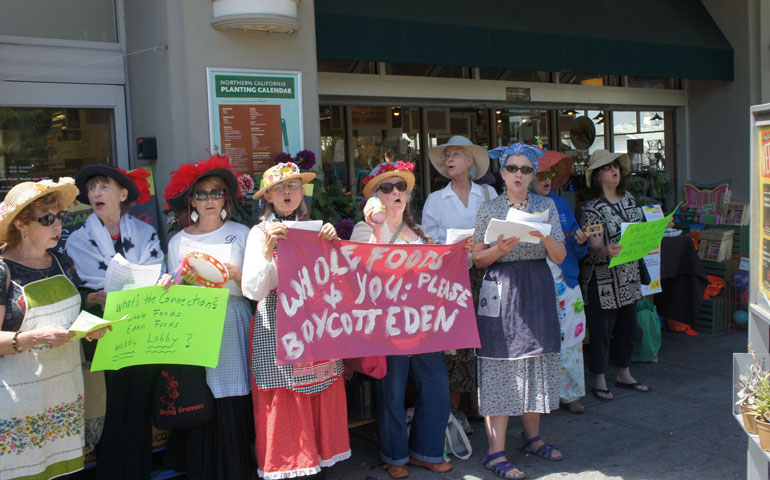 Members of the Raging Grannies Action League, calling for a boycott of Eden Foods, protest at Whole Foods July 19 in Palo Alto, Calif. (Courtesy of Raging Grannies)
Eden Foods, a natural and organic food company and winner of numerous awards for social responsibility in business, is currently the target of a boycott by progressive activists. The boycott began in April 2013, shortly after the company filed a lawsuit against the Department of Health and Human Services' mandate that all companies have to cover 20 types of contraception for women in their health plans.
Michael Potter, a Catholic and sole owner of Eden Foods, said in a press statement that his lawsuit is about religious freedom. "This lawsuit does not block, or intend to block, anyone's access to health care or reproductive management," he said. "This lawsuit is about protecting religious freedom and stopping the government from forcing citizens to violate their conscience."
Last October, Eden Foods' case was denied in the Sixth Circuit, but in the wake of the recent Supreme Court decision Burwell v. Hobby Lobby on July 1, this ruling was vacated and remanded back to the circuit court for reconsideration.
After the decision, boycott efforts have increased. The Facebook group "Boycott Eden Foods" was founded in April 2013, but the bulk of its activity has occurred since July 2.
CREDO Action -- a "social change organization that supports activism and funds progressive nonprofits," according to its website -- originally created a petition calling for the organic food giant Whole Foods to drop Eden Foods products.
Whole Foods decided not to do so. "When reviewing products for our shelves, our primary consideration is whether the product's ingredients meet our Quality Standards," Whole Foods spokesman Michael Silverman said in a statement. "We recognize and respect that customers may have their own personal criteria for buying or not buying a product."
A second petition by CREDO Action pledges not to buy Eden Foods products until the company changes its health care coverage. The petition had more than 170,000 signers by late August, according to CREDO's website.
Many co-ops and other small grocery stores are being petitioned by patrons or members to drop the brand. Weaver Street Market, with three locations in North Carolina, has already done so. Central Co-op in Seattle originally urged concerned members to "vote with their dollars." Since, the co-op has found that 80 percent of Eden Foods products were not keeping up with competitors' products and the co-op has removed these from its shelves. Wheatsville Co-op in Austin, Texas; Willy Street Co-op in Madison, Wis.; Seward Community Co-op in Minneapolis; and Park Slope Food Coop in Brooklyn, N.Y., are among those amid the debate about whether to continue with the brand.
"The overarching problem is that your employer should not have any part in decisions regarding health care, no matter what the reason," explained activist Kim Carrier, a member of the Seward Community Co-op in Minneapolis. "By filing and standing by this lawsuit, they are being openly hostile towards women."
For others, Eden Foods' position on birth control encourages them to buy its products. "I am more likely to buy from Eden Foods because I know they are being consistent," Phoenix teacher Christina Dehan told NCR. "If you're going to go out of your way to shop organic and hormone-free, it makes absolutely no sense to put that stuff in your body to prevent pregnancy."
Some independent grocers have decided to keep the brand, such as the Food Conspiracy Co-op in Tucson, Ariz. "It is important to consider that Eden Foods has been an industry leader in maintaining organic standards and bringing BPA-free packaging to the U.S. market," Food Conspiracy Co-op posted on its website. "Eden's offerings are amongst the most high quality products available at the Co-op due to their commitment to organics, GMO labeling, and using BPA-free cans. Eden has been an industry leader in organics and maintaining standards in the face of corporate attacks."
These small grocery stores have captured the attention of Eden Foods, which began as a co-op. The company urged these stores to continue carrying its products.
"Eden Foods is a 46-year, independent, principled food company," it said in a statement dated July 21. "We took our stand against GMOs 21 years ago. We build relations and business with organic growers and traditional food makers, nurturing more than 370 family farms with over 86,000 acres of healthy organic farmland."
The statement included a connection between the heart of their work and their anti-birth control stance. "Eden Foods frowns on myopic pharmaceutical medicine and toxic chemical dependent agriculture," it said.
[Anamaria Scaperlanda Biddick studied philosophy at the University of Notre Dame before returning to Oklahoma.]
A version of this story appeared in the Sept 12-25, 2014 print issue under the headline: Eden Foods' HHS suit sparks boycott.