A version of this story appeared in the July 3-16, 2015 print issue under the headline: Unexpected turn to theology bears fruit.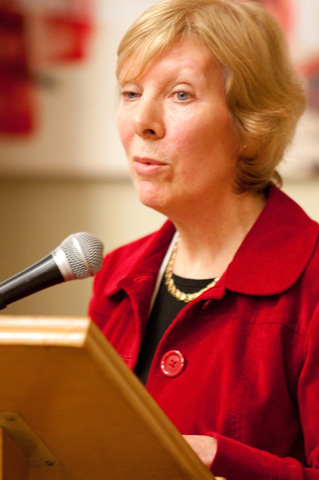 Moira McQueen
Moira McQueen, a bioethicist and a fan of St. Thomas Aquinas, views her appointment to a prestigious Catholic commission as cumulative of her faith and decisions made throughout her life.
"It's hard not [to like] St. Thomas Aquinas. [He's a] philosopher and theologian," McQueen said.
McQueen started out in law but, after desiring to delve more into her faith, she pursued a master's in theology and eventually a doctorate. Her studies eventually led to her being appointed to the International Theological Commission.
McQueen relates to Aquinas when she describes her change in direction. In a 2012 speech at St. Joseph's Basilica in Edmonton, she said, "St. Thomas Aquinas talks about grace building on nature, and I have never ceased to feel grateful for the grace I was given to act on my decision to study Catholic teaching." The choice to switch careers from law, she said, led to "a more complete commitment, both in my personal and professional life, all my life in fact, to Christ."
Today, McQueen is executive director of the Canadian Catholic Bioethics Institute and a professor of moral theology at the University of St. Michael's College in the University of Toronto. She has lectured and been published in the areas of end-of-life care, reproduction technologies, stem cell experimentation, regenerative medicine, genetics and mental health. She also holds a law degree from the University of Glasgow, Scotland.