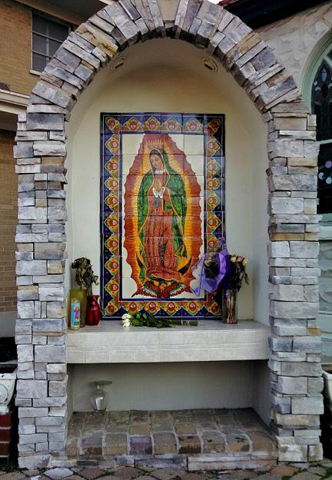 Our Lady of Guadalupe grotto (Tracy Kemme)
I pulled into the empty church parking lot a few minutes early as the fresh daylight bathed the world anew. I stepped out of the car and stretched, grateful for the warmth after a long and fickle winter. Standing there, I wondered what the coming hours would bring. Today, I would drive a Guatemalan woman and her young daughter to immigration court in Cleveland, about four hours away. The social worker had told me that this would be the woman's third trip to immigration court since arriving to the U.S. in November 2014. She is in the midst of removal proceedings. At her December hearing, the judge had granted her more time to try to find an affordable lawyer, but as of today she still hadn't been able to secure representation.
What was this woman's story? What would happen?
The journey would be sacred, I knew for sure. Awaiting my passengers, awe pulsed in my heart. "Thank you, God, for this privilege," I spoke into the morning air. Then, at the Our Lady of Guadalupe grotto, I asked for Mary's care during our travels.
Walking back to the car, I pulled out a book that I've been praying with this Lent: The Church of Mercy by Pope Francis. Today's chapter, called "A Culture of Solidarity," happens to be an excerpt from the Pope's address at the Jesuit Refugee Service in Rome.
"What does serving mean?" it begins. "It means giving an attentive welcome to a person who arrives. It means bending over to those in need and stretching out a hand to them, without calculation, without fear, but with tenderness and understanding, just as Jesus knelt to wash the apostles' feet."