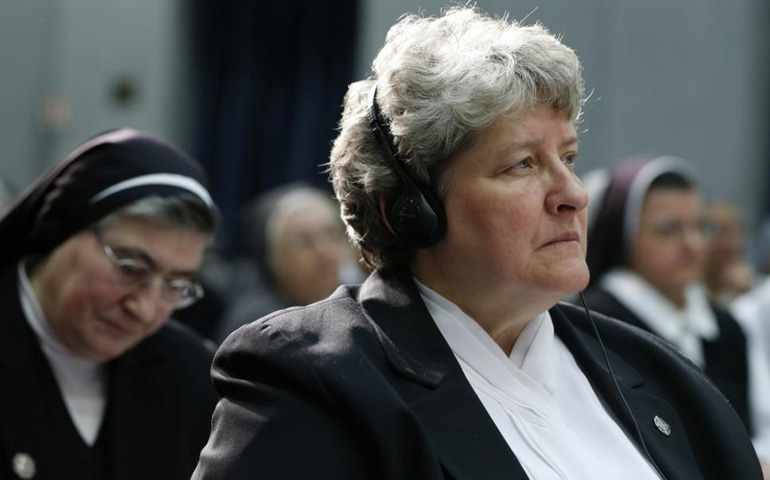 Nuns listen Tuesday during a Vatican press conference for release of the final report of a Vatican-ordered investigation of U.S. communities of women religious. (CNS/Paul Haring)
I learned somewhere that "All spirit starts at the top." The attribution may be apocryphal, perhaps, but in this case true, nevertheless.
Tuesday, in fact, I saw the truth of that with my own eyes.
Tuesday's release of the final report on the apostolic visitation of American nuns launched in 2008 by Cardinal Franc Rodé, then prefect of the congregation for religious life, takes on a completely different tone than at its inception.
The plan, as then defined, simply mandated the invasion of American religious congregations to look into the quality of life being lived by American sisters. Launched without discussion or collaboration with the women religious involved, the plan took on the aura of a witch hunt and marked the entire process negatively.
The process alone alerted sisters to the lack of trust and respect for them, even as institutions let alone individuals. It also alerted the laity, thousands upon thousands of them, whose own spiritual lives had been nourished by the changes sisters had made in their work and lifestyles over the years. It was the laity who knew up close and in a special way the potential disaster that could come to the church itself from blocking those changes in the future.