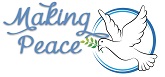 • Read more stories that delve into questions of peace in the Making Peace series on GSR and at NCRonline.org.
______
On a sunny day last January, the St. Monica's Vocational School for Girls in Gulu, Uganda, was full to bursting. More than 5,000 people covered every inch of the verdant campus, celebrating the Gulu Episcopal Provincial Annual Peace Prayer Week, which culminated Jan. 13, 2017, with a celebratory Mass.
"May each heart not promote violence! May each mouth not promote violence!" The words of Msgr. John Baptist Odama, archbishop of Gulu, echoed across the school grounds.
Two decades ago, Joseph Kony's Lord's Resistance Army stormed St. Monica's with guns firing, searching for children they could coerce to be new soldiers. But on this day in January 2017, the bullet holes that still pepper the ceiling of the classrooms were contrasted against thousands of people outside, clasping their hands in a prayer for peace.
Sitting among the crowd was Sr. Rosemary Nyirumbe, the former director of St. Monica's school.
"I was very observant, and one thing I noticed was that not a single woman or religious nun was able to give a voice [during peace week]," said Nyirumbe. "They didn't even invite one! When we're talking about peace building, I expected them to say, 'Let's take some of these women who were deeply affected by this conflict to give their voice, to find out how they are involved in peace building, what their roles are.'"
As a result of the male-dominated peace week, Nyirumbe decided to gather some women in Gulu to create their own peace forum. "We women should give a voice to ourselves, why are we waiting for other people?" she asked.
Pope Francis marks World Day of Peace on Jan. 1, offering a vision for a more peaceful world in the coming year, a message Nyirumbe hopes women will take to heart. 
Advertisement