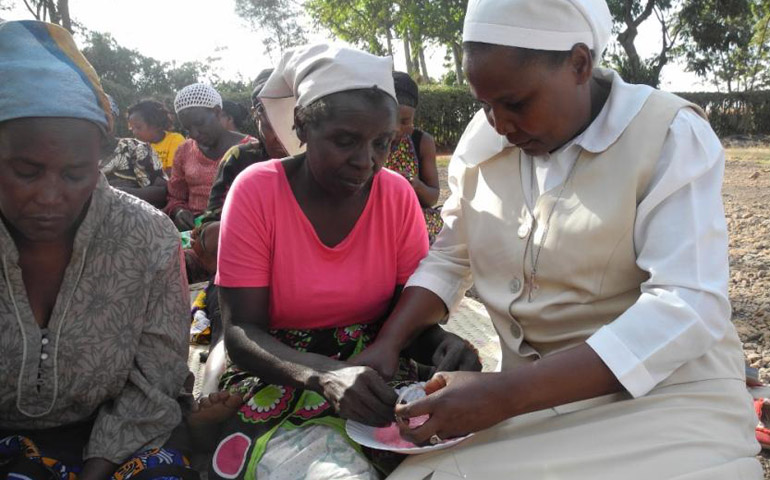 Sr. Josephine Muthoni Kwenga, a Sister of St. Joseph of Tarbes, right, helps a woman make a bracelet during one of the training sessions. (Melanie Lidman)
In Kenya, tribal tensions simmer just below the surface of every conflict. In December 2007, this tension exploded after a viciously contested election plunged Kenya into a three-month-long bloodbath of tribal conflict. Many activists and outside observers accused the Kenyan Election Commission of ignoring evidence of vote rigging to keep the current government in power. Tribes who supported opposing candidates stormed into each other's villages and shantytowns, burning down homes.
More than 1,000 people died in the violence, and 660,000 more were displaced from their homes, according to Amnesty International.
Many of the displaced victims ended up in Nairobi's biggest slum, Kibera, a sprawling network of trash-filled mud alleys and corrugated tin houses crammed into every inch of space. More than a million people live in this single slum, which is the second-largest on the continent after South Africa's Soweto.
Six years after the victims fled their homes for this crowded shantytown, their legal cases are in limbo as they wait for compensation from the government. Many of the displaced people were farmers, mostly illiterate, with high rates of HIV. When they were forced to leave their land, they lost the only livelihood they had.
The slums also removed the victims' network of social support, isolating people from their families and forcing tribes from different parts of the country to live in close quarters. Cultures and traditions clash, especially since unemployment magnifies the feelings of helplessness. It is a recipe for disaster: Even the smallest spark can reignite a tribal war.
To decrease tension in one neighborhood of this slum, Catholic sisters have trained women to act as local peacemakers and mediators. Since 1999, the Association of Sisterhoods of Kenya's Justice and Peace Commission has trained 340 women during a summerlong intensive seminar. The women trainees are mostly laywomen but include a few sisters. They hail from across the country and gain tools for defusing small, local conflicts, like disputes over fences or resources.