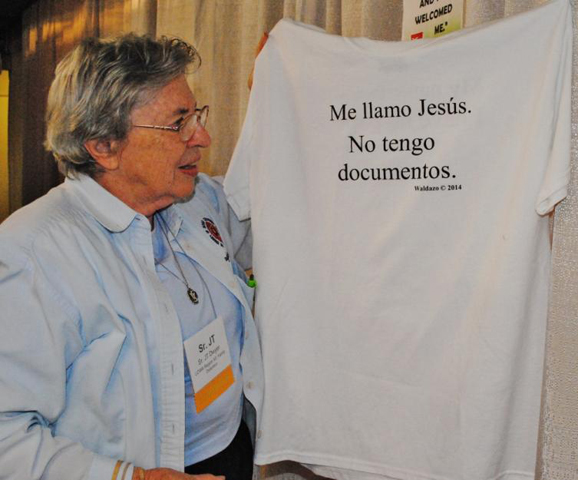 Daughter of Charity Sr. JT Dwyer displays a T-shirt hanging in the LCWR Region XII: Family Detention booth, one of the exhibitors at the assembly. In English on the other side, the shirt says: "My name is Jesus. I have no papers." (GSR photo/Dawn Cherie Araujo)
The Leadership Conference of Women Religious membership on Friday morning voted to adopt a resolution that commits member congregations to addressing systemic causes of injustice.
"We pledge prayer, education and advocacy," the resolution read, "and commit to using our collective voice, resources, and power in collaboration with others to establish justice which reflects God's abundant love and desire that all may have life."
While the resolution itself is broad — it mentions economic justice, the promotion of nonviolence and environmental stewardship, among other topics — the focus of the resolution presentation, unquestionably, was immigration and the detention of women and children seeking asylum.