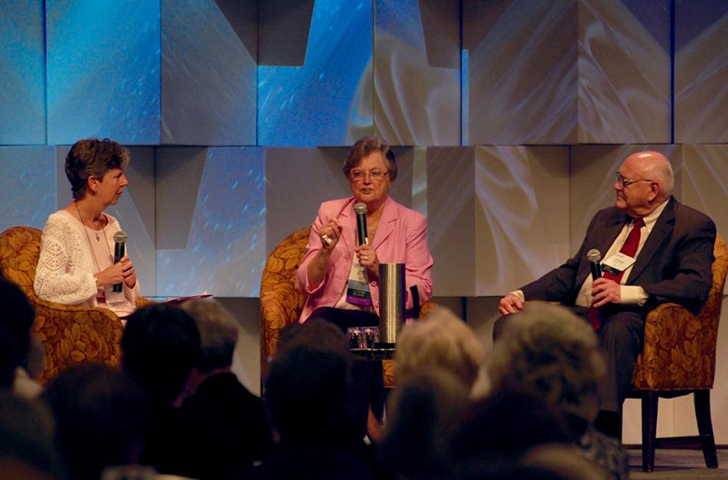 Immaculate Heart of Mary Sister Annmarie Sanders moderates a discussion between Congregation of Saint Joseph Sister Janet Mock and Society of the Divine Word Father Stephan Bevans Friday on how the Leadership Conference of Women Religious can move forward. (GSR photo/Dan Stockman)
In the penultimate address at this year's Leadership Conference of Women Religious national assembly, former LCWR executive director St. Joseph Sr. Janet Mock made some of her most pointed public remarks on the Vatican's now-concluded LCWR doctrinal assessment and mandate.
The Houston assembly marked the first time the general membership had met since the Vatican's controversial oversight of the group ended in April, and LCWR leaders had only been speaking to select media outlets in the interim, wanting to save further discussion until everyone had a chance to reflect together.
But in a public forum, moderated by moderated by LCWR's associate director for communications, Immaculate Heart of Mary Sr. Annmarie Sanders, Mock said she was able to maintain hope during those years, because she tries to see the good in people. But during the process, she shared, someone told her she needed to be more willing to look at the culture of corruption from which the Vatican's actions stemmed.