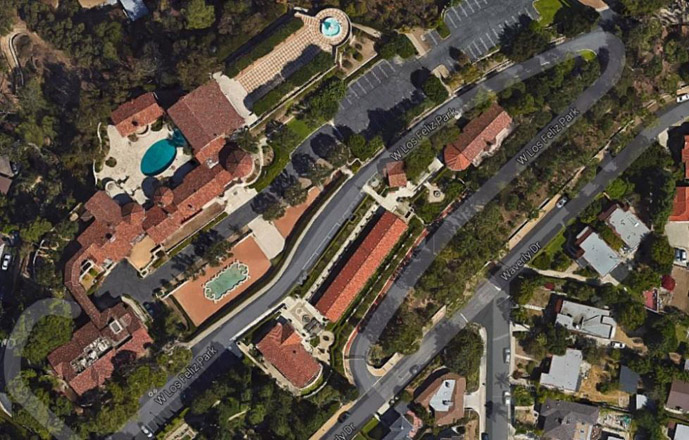 Satellite view of IHM convent, swimming pool and other buildings that make up the half-acre property in dispute in Los Angeles. (Google Earth)
This summer, Sisters of the Immaculate Heart of Mary have made national headlines over their conflict with the Archdiocese of Los Angeles about who had the right to sell the sisters' villa-style convent in the city's hip Los Feliz neighborhood. The 22,000 square foot property, which boasts views of downtown Los Angeles and the San Gabriel Mountains, caught the eye of pop singer Katy Perry, who reportedly has plans to "sip green tea and find herself" in the property's meditation garden.
The archdiocese attempted to sell the property to Perry for about $14.5 million, but at the same time, two of the last five living IHM sisters tried a sale of their own, to local restaurateur Dana Hollister, for $15.5 million. The story — Nuns in Fight with Katy Perry — or some iteration of that, found its way to just about every news outlet imaginable: The New York Times, "Good Morning America" and, of course, the Los Angeles Times, which broke the story.
The conflict centers on who officially controls the property, and, therefore, who has a right to sell it. The IHM sisters already have a conflicted history with the archdiocese: In 1970 around 90 percent of them left the order as a result of a dispute with then-Archbishop Cardinal James McIntyre over efforts the sisters were making to modernize following Vatican II. The sisters who left the order formed an independent lay community called the Immaculate Heart Community. Of those who remained in the order, only five are still living.