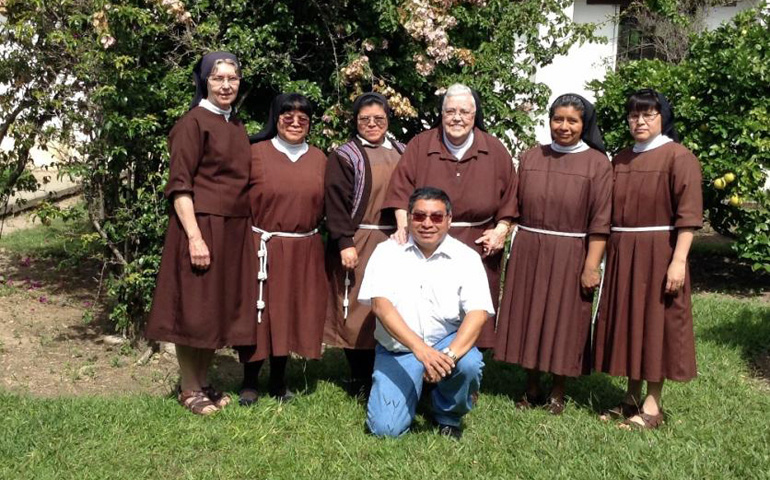 The Poor Clares community poses with Padre Francisco Boche at the monastery of Our Lady of Wisdom of the Virgin of Guadalupe; standing in the back row are Srs. Agnes Stretz, Maria Concepción Menjívar, Sandra Morales, Mary Peter Rowland, Ana Maria Mateo Juan and Elizabeth Menjívar. (Courtesy of Sr. Agnes Stretz)
An unholy reaction crossed the mind of Sr. Mary Peter Rowland on a day 33 years ago when she first hit the streets of Guatemala, which was supposed to be her new home. Goats and cows still grazed on lots in the capital, Guatemala City, and the unmistakable smell of animal manure wafted through the air.
"Oh, my God, I don't think I can do this," Rowland recalls thinking. "I'm from Brooklyn."
Rowland has toughened considerably since those early days. When she traveled from Memphis in 1981, however, where she had been abbess of the Poor Clares' monastery, to the western province of Huehuetenango, a civil war was at its height, and Rowland was new to the landscape of violence. Catechists and priests who stood with the poor were being killed. Bodies of students and peasant farmers turned up on the roadside, decapitated. Missionaries in remote villages made reports in code, Rowland recalls, such as, "24 baptisms," to stand for "24 murders."
In the 36-year war that ended with a peace treaty in 1996, some 200,000 persons died or disappeared, most of them unarmed indigenous Maya like those who lived in Huehuetenango, at the hands of the army. In the midst of the mayhem, the Poor Clares answered a call from the bishop of the hard-hit province, Msgr. Victor Hugo Martínez, who beseeched the contemplative Franciscan order to come out to the hinterland and pray among the suffering. With five other American sisters, Rowland founded the monastery of Our Lady of Wisdom of the Virgin of Guadalupe, and became its first abbess.