A version of this story appeared in the Feb 14-27, 2014 print issue under the headline: Monks' age-old link to ink hits high-tech age.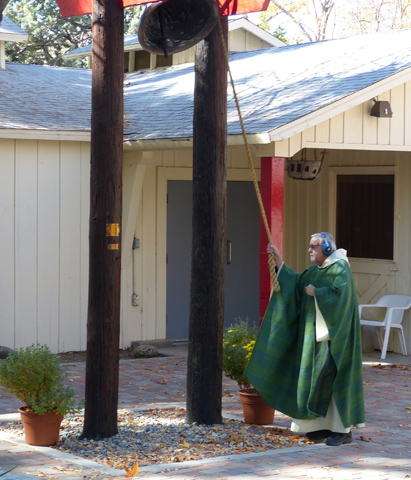 Benedictine Fr. Patrick Sheridan rings the bell for noon Mass in front of the chapel at St. Andrew's Abbey in Valyermo, Calif., Nov. 5. (CNS/Tidings/Paula Doyle)
Valyermo, Calif. — February 10, 2014
Throughout history, monks have been linked to ink, penning beautiful calligraphy in books and illuminating manuscripts.
The Benedictine monks at St. Andrew's Abbey in Valyermo, located in California's Mojave Desert 90 minutes north of Los Angeles, have updated the ink connection for today's digital age with their new venture, Monks-Ink, an online ink and toner business.