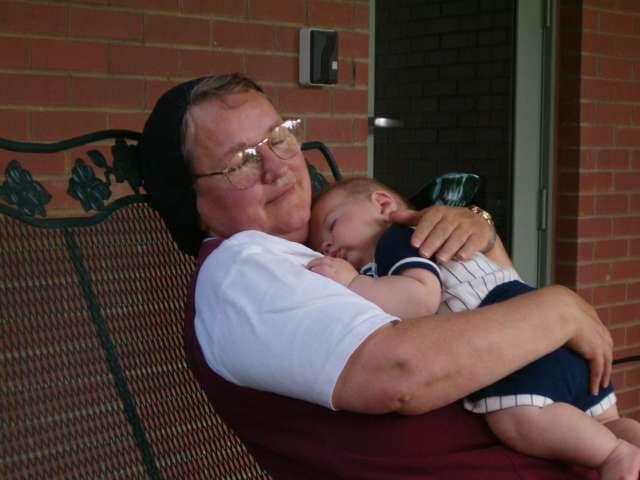 Hildegard Pleva spends time with her first grandson, who is now 11 years old, when he was an infant. (Provided photo)
Americans are changing jobs, if not careers, more frequently than ever before. Statisticians and sociologists argue about the significance of this trend, but the effects are observable. Where once people remained in one job, plying one trade or profession, living in one town for most of their lives, it is not uncommon to see rapid, frequent and fluid movement from one career to another, one coast to another, or from one lifestyle to its complete opposite.
Mine is a Boomer-generation story. First child of two young survivors of the Great Depression married in the midst of World War II, I first met my dad at 6 months of age upon his return from the Pacific. My sister and I were raised in a culturally Italian, three-generation household with four adults, none of whom went to church. Yet we were sent to religious education and Mass at the parish across the street. My liberal-thinking parents preferred public school for us, but I gathered the courage to ask to go to the Catholic academy for girls, where the Sisters of St. Joseph of my parish also taught. I was pretty much in love with them.
About the time of my first Communion, God began to speak to my heart. This was facilitated by an aunt whose devotion was not lost on me and who began to include me in her practice. My first memory of church is a morning Mass of Holy Thursday, with the procession carrying the Eucharist around the church protected by a golden canopy all suffused with tutti-frutti colored light streaming through stained-glass windows, magnified in mystery by the smoke of incense. At the age of 7, I just knew something was present there that I had yet to know.
Later, friends would ask where my faithfulness came from given the lack of example in my own home. It came from the influence of my aunt and of the sisters who taught me, encouraged my growth in faith and intellect and provided models of adult women who lived for God alone.
Of course, I was bitten by the vocation bug. I was thrilled to be able to serve at intimate early Lenten morning Masses just for students. It was joy to have my classroom right next to the convent chapel in my senior year, and there was all that talk about who would be entering the convent upon graduation each year. But I was afraid to approach my parents. My father was stern and demanding, certainly not the type of father I could wrap around my little finger. I knew no such idea would be tolerated and feared the humiliation of what would come.