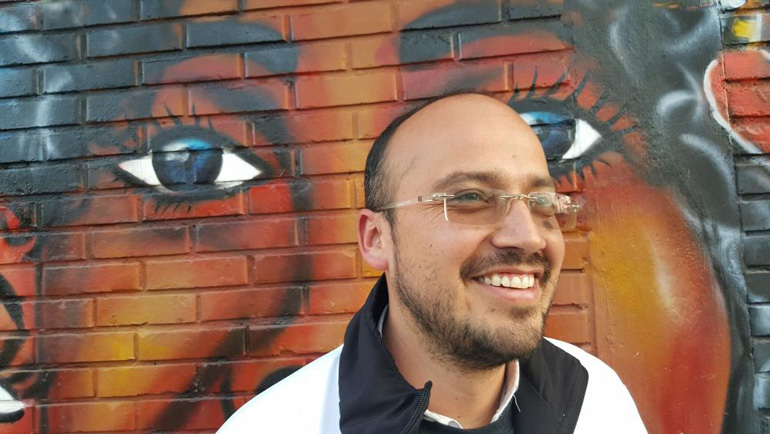 Msgr. Haiver Esneider Perilla Caballero heads the Free Protestant Episcopal Church, an Anglican denomination that does not have formal ties with the U.S. Episcopal Church. Here he is seen on outside of a homeless shelter in a section of Bogota called the Bronx. (GSR/Chris Herlinger)
Bogotá, Colombia — September 11, 2015
When Sr. Valeriana García-Martín speaks of her work at a Bogotá care center for children with physical and mental disabilities, she does so with understandable seriousness.
Hundreds of Colombian families have turned to the center, Asociación Hogares Luz y Vida ("Homes of Light and Life"), to aid their children with special needs. As director of the home, García-Martín has worked tirelessly for more than two decades to build an institution that provides needed care for some of Colombia's most vulnerable children.
García-Martín has done so with the help of the families she serves, the institutional church in Colombia, Colombian Catholic laity, and donors from outside Colombia, including Catholic and non-Catholic churches in the United States.
García-Martín, a 74-year-old native of Spain who works within the archdiocese of Bogotá, the country's capital, compares the work to rebuilding a house — "rebuilding the church of the poor," she calls it. And her own role, she believes, is secondary to the example of Jesus' mercy at work in the world.
But there is another person whose example she thanks: Pope Francis.