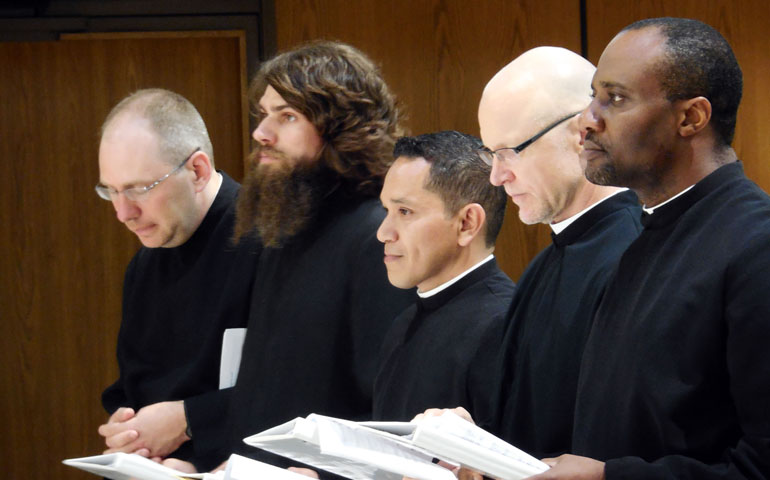 From left, Fr. Reed Mungovan, novice director, celebrates with Michael Johnson, Octavio Trejo-Flores, Patric Nikolas and Marcel Emeh during their first profession ceremony Aug. 10 at St. Anne's Salvatorian Campus Chapel in Milwaukee. (Courtesy of Society of the Divine Savior)
Formation numbers are up in the U.S. for the Salvatorians, the Catholic religious community also known as the Society of the Divine Savior. The Salvatorians' U.S. province, based in Milwaukee, has generated an approximate 17 percent growth in vocations within the last three to four years and now have 17 men in formation.
According to the order, this growth came through a collaboration between ordained and lay, a focus on social relevance, and bringing out the uniqueness of each individual in formation.
Five years ago, the Salvatorians hired layman Dave Holton to be associate vocation director, serving alongside Fr. Joseph Rodrigues, vocation director and U.S. provincial.
"A fundamental value of our religious order is the collaboration of religious and laity in ministry," Rodrigues said in an email to NCR. "Together [Holton and I] have experimented with where to place advertisements, which national conferences to attend, and how to follow up with interested persons."