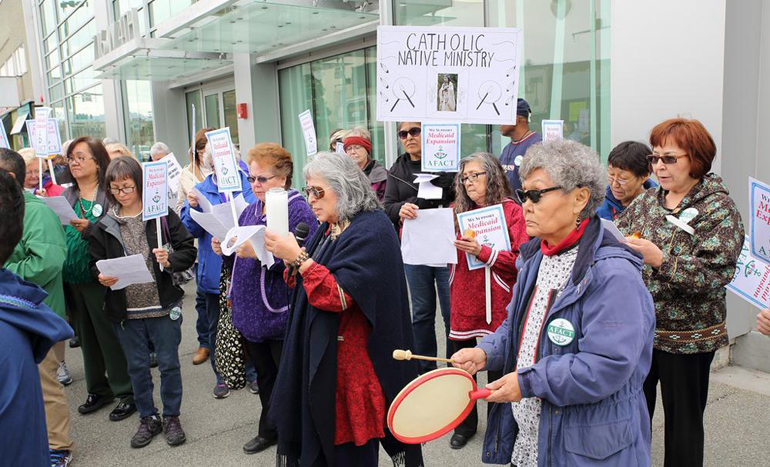 Sr. Mary Peter Diaz (center, in red with dark blue blanket) leads a prayer rally in support of Medicaid expansion in Alaska on May 14. (Ron Nicholl Photography)
To hear Rachel Maddow tell it, Daughter of Charity Sr. Mary Peter Diaz single-handedly took on the billionaire Koch brothers and publicly defeated the conservative activists who spend millions of dollars supporting their candidates and causes.
Diaz, not surprisingly, sees it a little differently.
While the essential facts of the July 20 broadcast are true, Diaz points out that she was just one voice among hundreds in a statewide effort to expand Medicaid coverage to 40,000 Alaskans with no health insurance. The Koch brothers and their Americans For Prosperity political action committee funded a fake grass-roots campaign against the expansion, Maddow said, but Anchorage Faith & Action/Congregations Together, known as AFACT, had the people — and Gov. Bill Walker — on their side. AFACT is a coalition of 16 churches and ministries, including the Catholic Hispanic Ministry that Diaz runs.
GSR: How did you get involved in this?
Diaz: AFACT had someone speak at various congregations explaining the Medicaid expansion, but our former governor [Sean Parnell] was totally against it. With our new governor, it was part of his campaign, so we just needed to build support. We did various activities to inform the public. Most of what we did was education. We had a rally with over 400 people. For Alaska [with a population of 735,132], that's a big deal.