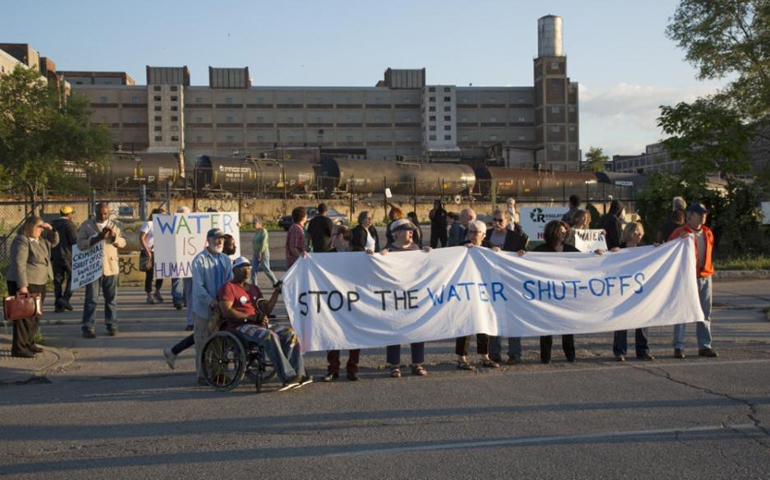 Activists line up July 10 outside of the Russell Industrial Center, where the Homrich company is housed, to protest Detroit's water shut-offs for customers who owe too much money on their accounts. (Jim West)
A Catholic sister has added her voice to those protesting Detroit's aggressive campaign to shut off water to thousands of households in arrears on their water bills. For Sister of Mercy Mary Ellen Howard, the fight here is elemental.
"Water is life," she said, "when you shut off water, you shut off life."
Howard, a Detroit native, was one of 10 religious leaders and community activists arrested July 10 while blockading the entrance to Homrich Wrecking Inc., a private company contracted by the city to do residential shut-offs. As picketers chanted, "No water flow, no trucks go," Howard and her group stood in front of a gate with a large banner that read, "Stop the Shut-offs," impeding pickup trucks about to depart for a morning shift of turning off water mains. Charged with disorderly conduct, the religious leaders and community activists were held for a few hours at a nearby detention facility then released on a $100 bail.
It was the first arrest for the 71-year-old sister. A former chief executive officer of two hospitals, Howard worked for the past 19 years as executive director of Cabrini Clinic, a health clinic for the poor and uninsured. Her recent retirement, she said, has freed her to speak out on what has become one of the most contentious issues in Detroit's bankruptcy proceedings.
Over the past year, the Detroit Water and Sewerage Department has shut off water to more than 40,000 households. The crackdown, which targets residents who are two months behind on their bill or who owe at least $150, is part of the city's plan to reduce its $18 billion debt. One-third of that debt, $5.7 billion, much of it associated with bonds, is carried by the water department.