A version of this story appeared in the Sept 12-25, 2014 print issue under the headline: Sit here awhile and rest.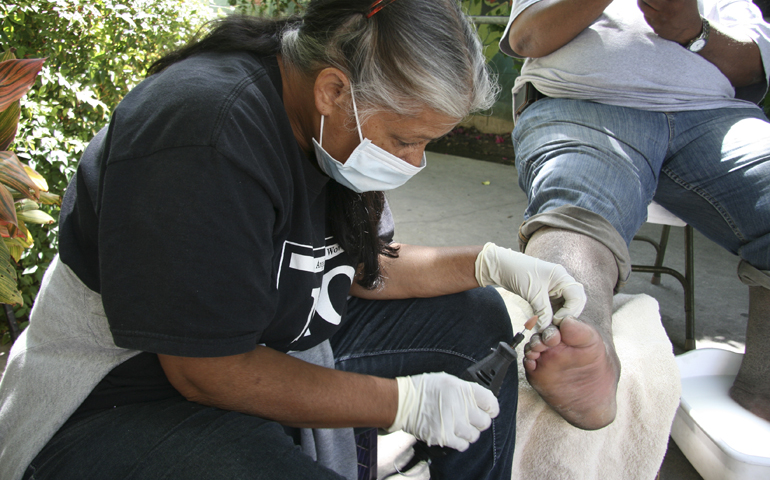 Karan Benton cares for the feet of a diabetic person who lives on the street in Los Angeles. (Michael Wisniewski)
The water roars out of the tap and makes a beat in double-time on the bottom of the plastic tub. I test the temperature and twist alternately the hot and the cold to correct it, then to correct it again.
This is not a meal-serving day at the Los Angeles Catholic Worker. The clatter of pots and the tinny calls are hushed. This is a garden hospitality day, the opening of our garden for sitting, as well as a dental clinic, a short yoga class, a giveaway of necessities, and a foot care clinic. I stand at a sink preparing a soaking tub for foot care.
---
These days, even the act of sitting in public has become a moneyed privilege. The lazy herds of bistro tables, gazelle-legged chairs, fat squatting lunch tables and broad benches are "For Customers Only." Human beings too poor to buy a latte are not to stop here. They block the sidewalk; they loiter and generally interfere with the faux Bohemian charm meant for potential spenders. To sit honestly weary in public is to engage in laziness, predation and plotting. Productive citizenship is synonymous with frenetic phone or laptop activity. Those who sit simply exhausted from the act of survival -- they do not raise profits. Therefore they must move along ... move along ... move along.