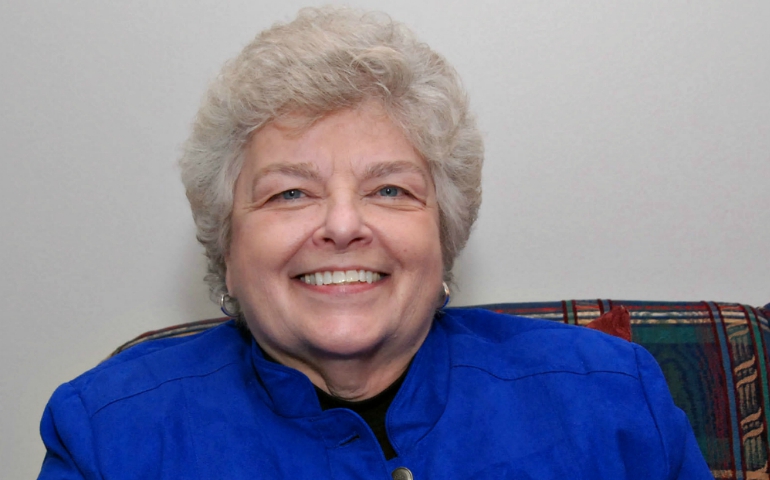 Sr. Louise Akers of the Sisters of Charity of Cincinnati in 2009 (David Gawlik)
Sr. Louise Akers, a Sister of Charity of Cincinnati who championed social justice for 50 years, died Feb. 7. She was 75.
Akers leaves behind a legacy of standing up for equality, especially gender and racial equality, those who knew her said. She had battled melanoma for several years.
"I'm so grief-stricken, it's hard to put my feelings into words," said Deborah Rose-Milavec, executive director of FutureChurch, a Catholic reform organization that embraced Akers' work. "She was so authentic. She was unflinchingly honest, which made her so trustworthy as a friend, as a sister, as a mentor, as a teacher. She made faith real because she lived it at such an authentic level."
Akers came to national prominence in 2009, when Archbishop Daniel Pilarczyk, then archbishop of Cincinnati, ordered her to publicly renounce her support for women's ordination or be prohibited from making presentations at archdiocesan-sponsored events, conducting retreats or reflection days, or teaching courses at sites directly related to the archdiocese. She refused.
"For four decades, I have devoted my ministry to advocating on behalf of the marginalized through religious congregations, justice organizations, ecumenical and interfaith groups," Akers told National Catholic Reporter at the time. "Women's ordination is a justice issue. Its basis is the value, dignity and equality of women. I believe this to my very core. To publicly state otherwise would be a lie and a violation of my conscience."