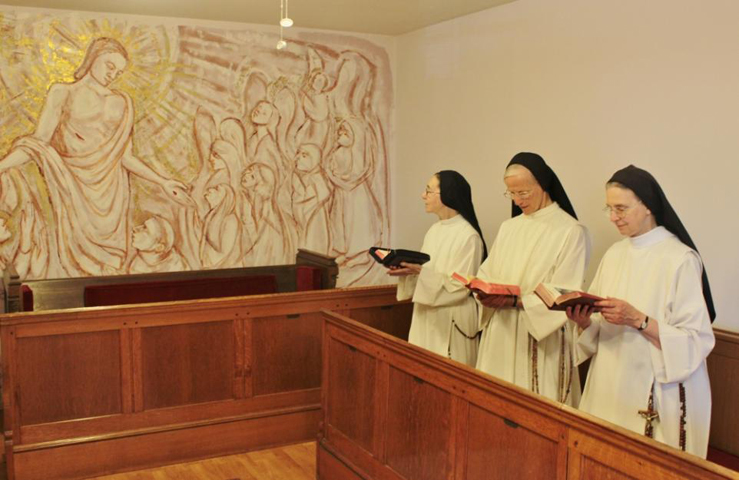 Dominican Srs. Sr. Mary Columba, Mary Grace and Sr. Emmanuella pray in the chapel together at the Caterina Benincasa Monastery in New Castle, Delaware. Their community was established in 2007. (GSR photo/Colin Evans)
For Dominicans, whether they be nuns, friars, brothers or sisters in active ministry, the whole is always greater than the sum of its parts. "The Dominicans are a family," says Sr. Emmanuela, one of the three nuns who reside at Caterina Benincasa Monastery (named to honor the 14-century mystic Catherine of Siena) in New Castle, Delaware.
"We speak things over. We debate, so it's very creative," says her friend and colleague, Sr. Mary Columba, about life in a community that has navigated choppy waters to become an established part of a bustling urban landscape. "The end product isn't helping the monastery survive until doomsday — it's how we serve the mission."
But the decision to launch a new community in New Castle in 2007 was not easy for Srs. Emmanuela, Mary Grace and Mary Columba, longtime friends now in their 70s and 80s. Though approved by church leaders, it was in some ways a step into unknown territory, attracting bewilderment from some and support from others.