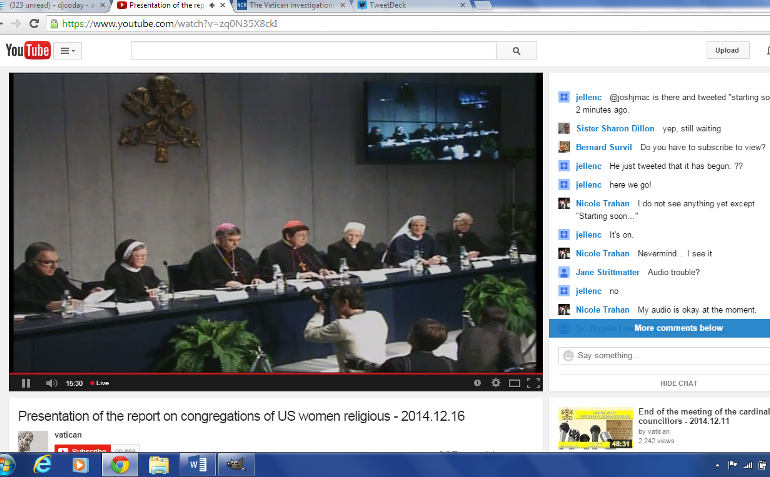 Screen grab of Vatican You Tube Channel showing press conference about the apstolic visitation of U.S. women religious.
Vatican City — December 16, 2014
The final report of a controversial six-year Vatican investigation of tens of thousands of U.S. Catholic sisters takes a roundly positive, even laudatory, tone toward their life and work but also includes several couched but barbed criticisms of them.
Using some form of the word "gratitude" eight times over its 12 pages, the report also acknowledges the suspicion many sisters had over the launching of the investigation and says the Vatican is seeking "respectful and fruitful dialogue" with those who refused to collaborate in the process.
The Vatican's congregation for religious life, which wrote the report, states at one point: "We express the hope that together we may welcome this present moment as an opportunity to transform uncertainty and hesitancy into collaborative trust, so that the Lord may lead us forward in the mission he has entrusted to us on behalf of the people we serve."
The Vatican investigation, known formally as an apostolic visitation, was launched by the religious congregation in 2008 with the approval of Pope Benedict XVI. Likely the largest such investigation in church history, it involved inquiry into some 341 female religious institutes in the U.S. that include some 50,000 women.