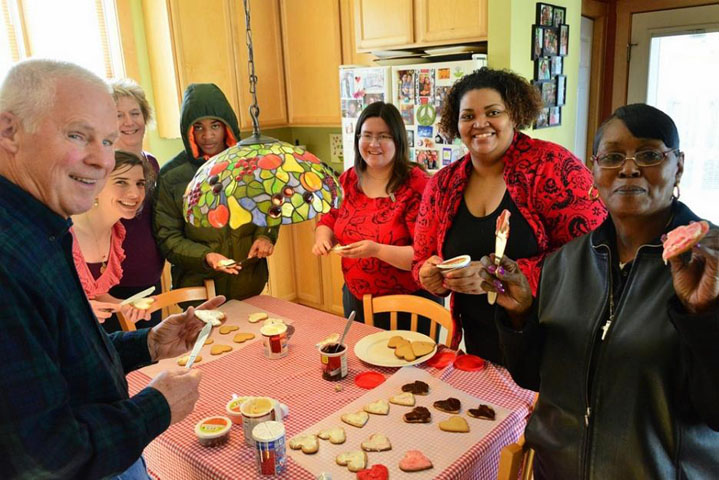 On Saturday, Feb. 14, 2015, Vis Companions convened to bake and decorate Valentine's at St. Jane House: Jeff Pearson, Anna Dourgarian, Lisa Emory, Javon, Christie Schmidt, Bianca Franks and Linda Goynes. (Brian Mogren / Courtesy of Visitation Monastery of Minnesota)
Minneapolis, Minnesota — October 6, 2015
On the north side of Minneapolis, a small but vibrant community of Visitation Sisters practices the discipline of contemplative prayer -- and open their doors to neighbors and visitors who want to do the same.
The groundbreaking effort, now just over a quarter-century old, expresses the Visitation mission in an active, practical presence among the vulnerable and marginalized.
Problems like drug addiction and violence or the challenges associated with living as an immigrant or navigating the educational system are much more than issues for the community, said Sr. Katherine Mullin, who moved here 14 years ago. "Being among these people, the people who come to pray with us, has made such a great difference in the relationships we have with them. We have the privilege of being able to support them in prayer and friendship, sharing our spirituality with them."
Members of a worldwide order, the Sisters of the Visitation trace their beginnings to the work of Frances de Sales and Jane de Chantal more than four centuries ago in France.
"For us, we are waking up and being awakened by people who come to us from all walks of life," said Sr. Karen Mohan. "We in turn can share 400 years of charism with them. Life is about awakening, isn't it?"