The Field Hospital for July 6, 2016: Covering parish life
NCR Today
The Field Hospital
Parish nurse.jpg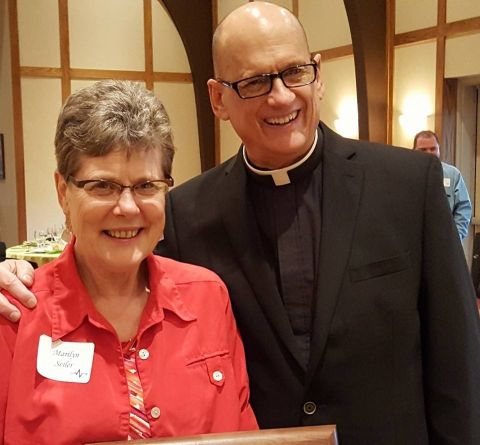 Editor's note: "The Field Hospital" blog series covers life in U.S. and Canadian Catholic parishes. The title comes from Pope Francis' words: "I see the church as a field hospital after battle. It is useless to ask a seriously injured person if he has high cholesterol and about the level of his blood sugars! You have to heal his wounds. Then we can talk about everything else. …"
If you have a story suggestion, send it to Dan Morris-Young (dmyoung@ncronline.org) or Peter Feuerherd (pfeuerherd@ncronline.org).
---
The free dental clinic sponsored by the Phoenix Diocesan Council for the Society of St. Vincent de Paul has been awarded a national honor and $15,000 that accompanies it. Last month the ministry was presented with the inaugural Henry Schein Cares Medal for Oral Health "in recognition of their steadfast commitment to expanding access to dental care for community members in need." Staffed by volunteer dentists and technicians, the clinic completed 6,284 appointments last year for low-income children and adults.
In the Oklahoma City archdiocese, another health care honor was recently presented -- the 2016 Catholic Foundation of Oklahoma's Catholic Nurse of the Year Award to Marilyn Seiler for her labors at St. John the Baptist Parish in Edmond, Okla., since 2009. "I am feeling embarrassed by all of the attention," Seiler told NCR. "This is a job that I really love and don't expect any recognition." She has served the parish "with health programs, publication of health awareness articles, weekly bulletin health columns, exercise classes for seniors, and personal visits to the hospitalized and homebound," reported the Sooner Catholic. Seiler also initiated a bereavement group. In addition to a plaque, the award included $500 for the parish and $500 for Seiler. She asked that her $500 be donated to Catholic Relief Services.  
Speaking of grass-roots Catholic health care outreach, hundreds of parishes across the U.S. and Canada field some form of health ministry. For example:
Half of the Anchorage archdiocese's 29 missions and parishes have at least one volunteer health minister or nurse, an effort coordinated with Alaska Faith Community Nursing Resource Center based at Providence Alaska Medical Center in Anchorage;
One such is St. Elizabeth Ann Parish in Anchorage where 10 medical professionals are listed on its Health Ministry team which, in turn, addresses a wide range of health topics from cancer survival to Alzheimer's Disease;
A Mental Health Ministry as well as Care Teams are key programs at Seattle's St. James Cathedral Parish;
Nurses Flossie Vance and Becky Lynch coordinate the Pastoral Care Health Ministry of the Cathedral of St. Mary, Cheyenne, Wyo., and do myriad tasks from symptom assessment and referrals to helping persons navigate complicated insurance filings;
"We are called to be health educators, advocates, trainers, facilitators and liaisons in healing of the body, mind and spirit," states the website of Parish Nurse Ministry overseen by registered nurses Kathleen Fogerty and Nancy Springman at St. Mary Parish in Richmond, Va.
In Fargo, N.D., Mary of The Presentation Sr. Sharon Houle is parish nurse coordinator in the Pastoral Care / Parish Nurse program of Nativity Catholic Church.
And at St. Christine Parish in Youngstown, Ohio, health fairs and yoga classes, plus other programs nurture a holistic atmosphere for healthy living. States the parish web site: "We strive to encourage individuals and the parish continue to be alert, sensitive and proactive regarding an understanding of the mind/body/spirit issues which enhance or interfere with the freedom to live, love, worship and serve in the Spirit of Jesus within a community."
One resource mentioned by several persons involved in parish-based health ministry is Faith Community Nursing.
NCR has carried several stories on parish nursing, archived here:
If I had $10 billion dollars
Parish nursing: Care for the sick, healing for the community
Parish nursing -- at a glance
Parish Nurses:
Edna Arroyo, Chicago
Sr. Jean Canora, Pleasant Valley, N.Y.
Margaret Hoarty, Omaha
Linda Bockhold, Manhattan, N.Y.
Kathleen Blanchfield, Orland Park, Ill. 
The annual Health & Well Being special section featured in NCR's print edition will be published Sept. 9. Here is a sampling of past reports.
[Dan Morris-Young is NCR's West Coast correspondent. His email is dmyoung@ncronline.org.]
We can send you an email alert every time The Field Hospital is posted. Go to this page and follow directions: Email alert sign-up.
---
Join the Conversation
Send your thoughts and reactions to Letters to the Editor. Learn more here [1]