NCR Today
Post Election: NCR's Michael Sean Winters says "the Democrats must do some soul-searching." The Midterm Tsunami
New York -- Real estate investors are likely to cast a longing eye on 19 churches that the NY Archdiocese plans to shutter, only a handful of which are encumbered with landmarking restrictions.
Pope Francis has conservatives talking schism. But a split is easier said than done
South Bend, Ind. -- Notre Dame hosts "Gay In Christ" conference promoting gay celibacy
Louisville, Ky. -- Catholic school asks teacher who returned from mission trip to Kenya to take a paid "precautionary leave" of absence of 21 days upon her return from her trip after "strong parent concerns" about Ebola. A letter writer responses: St. Margaret Mary fails members
Long Island bishop claims a proposed bill, which would remove the statute of limitations for crimes of sexual abuse of children and minors, penalizes 'only the Catholic church'. Bishop William Murphy seems to believe that sexual abuse in the Catholic church has been "effectively and permanently ... remedied,"
A flooded church and a disabled pastor: A parishioner reflects on a year of crisis: A Parish Crisis: Reflections and Lessons Learned
Theologians have never been freer to proclaim their originality and ignore ecclesial and academic restraints, but is that such a good thing? Who has the authority to write theology?
Effects of the Apostolic Visitation: The multi-year Vatican investigation of U.S. women religious congregations was a shock, but within in were seeds of transformation
Steubenville, Ohio -- Franciscan University professor uses hip hop appeals to youth in video catechism
The Norwegian religious organization Aksjon dåp ("baptism aid") that it had the perfect 30-second video clip to encourage, using humor, parents to baptize their children. But church leaders did not take to the farting, rapping baby featured in the clip.
German Benedictine abbey finds 'mysterious' $5 million in coffers
Kenya -- Catholic priest found guilty of killing Bishop Luigi Locati in 2005
---
Looking for a little inspiration to begin your day? NCR's sister publication, Celebration, gives you two options, both based on the Scripture readings of the day: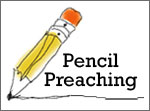 Pencil Preaching is blog in which Celebration editor Pat Marrin combines Scripture and sketching to reflect on the Word.

Daily Bread is a series of short reflections written by four authors who meet regularly to share the readings. Daily Bread is intended to help daily preachers and others who pray from the assigned Scriptures each day to orient themselves to the Living Word addressed to the church in the world. It's a great way to begin the day.
---
Join the Conversation
Send your thoughts and reactions to Letters to the Editor. Learn more here [1]