Parish roundup: Movement further divides Guam parishes; Parish renovates former renovation
NCR Today
The Field Hospital
20170215T1308-7987-CNS-GUAM-BURKE-INVESTIGATION.jpg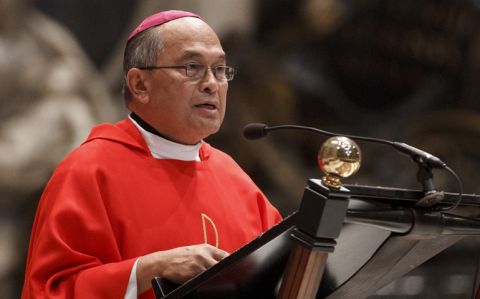 Parishes in Guam are not only divided by accusations of sex abuse against Archbishop Anthony Apuron. Catholics are also torn apart by the strong presence of the Way, a renewal movement that some see as cultish. Guam is a U.S. territory with a majority-Catholic population.
A Connecticut parish celebrates the renovation of its former renovation. Sound confusing? There's a trend flourishing in some parishes of churches being "restored" to what they used to be before they were renovated to accommodate Vatican II liturgical reforms. Look for a further exploration of this trend in an upcoming Field Hospital piece.
---
Related: New clericalism is imposing old ways on modern church architecture (April 13, 2017)
---
National Review's Kathryn Jean Lopez points out a regular theme of The Field Hospital: there is perhaps no more durable institution for good than the Catholic parish.
America Magazine profiles the Charlotte parish considered possibly the largest in the USA, and how its evangelization efforts might inspire the future of the Catholic megachurch.
The Jesuit publication also takes a look at the growth of the church in Hawaii.
Are you a parish shopper? New in a strange city? Perhaps you might enjoy this video called "Church Hunters." (It has an evangelical orientation, but many of the same dynamics are part of the Catholic world). It raises a deeper point amidst the spoof of cable real estate shows: Have we relegated church life to another consumer shopping good?
Pastors in the Diocese of Syracuse are told they need to step away from parish administration once they get to be 80 years old.
Catholics who have fallen away are welcomed back to parishes in the Diocese of Gary, Indiana.
An author offers suggestions on how Catholic parishes can make their mark in today's world. 
[Peter Feuerherd is a correspondent for NCR's Field Hospital series on parish life and is a professor of journalism at St. John's University, New York.]
We can send you an email alert every time The Field Hospital is posted. Go to this page and follow directions: Email alert sign-up.
---
Join the Conversation
Send your thoughts and reactions to Letters to the Editor. Learn more here [1]