Richard Rohr opens Call to Action conference with call to radically reimagine God
NCR Today
20150202cnsto0013.jpg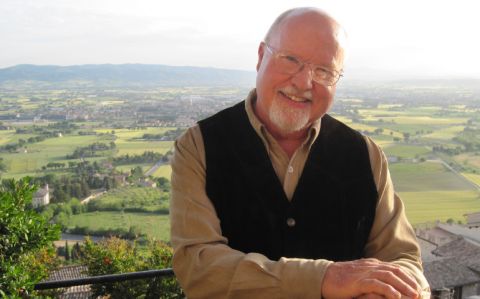 Albuquerque, N.M. — Just days after the results of the presidential election sent shock waves through countless progressive communities, Call to Action hosted its 2016 conference in Albuquerque, N.M.
This year's event drew over 650 participants, many of whom said they found comfort in being among activists and friends in the climate of uncertainty and fear that has descended in the wake of the election of Donald Trump.
"God knew we had to be together this weekend. The timing is no accident," said Jim FitzGerald, former executive director of Call to Action.
FitzGerald was tapped to introduce the Friday night's keynote speaker, Franciscan Fr. Richard Rohr, whose talk, "In the Beginning is the Relationship," was based on his latest book The Divine Dance: The Trinity and Your Transformation, published last month.
"One reason we've had so many problems is that we need rebuilding from the bottom up," said Rohr, "We have gotten the whole notion of God wrong." 
The Trinity, Rohr said, teaches us that God is a relationship and a community, not the proverbial "man upstairs," who "is always a white male that sits in judgment as a critical spectator."
 "Our image of God never moved much beyond Zeus on Mt. Olympus who is always angry and throwing lightning bolts," said Rohr.  
Yet, in the first chapter of Genesis, God speaks about Godself in the plural tense: "Then God said, 'Let us make humankind in our image, according to our likeness.'"
"God talks about Godself as a plurality," said Rohr, "a community of absolute friendship, an absolute communion."
When we begin to understand God as a being who participates in all things, a God who is an infinite outflow of love, a God who is the life force of everything, we realize that we are not autonomous in anything we do, said Rohr.
"If my instincts are right this notion of Trinity cannot come too soon," said Rohr.
"After the tragic events of this past week I'm convinced that the manifestation of our present evils, political corruption, ecological devastation, hating each other based on religion, race or sexual orientation" are all symptoms of "the greatest disease facing humanity: our profound and painful sense of disconnection," Rohr asserted.
"The ultimate sin is to think we are separate from one another, any race, any religion," Rohr told the crowd. Any movement that wants to deem itself "better than" is enslaved to the ego, which always wants to be separate and superior.
"We've got to have a God who is at least as big as the universe," Rohr said. "The mystery, beauty and awesomeness of the universe gets bigger and bigger," and we get stuck with an image of an angry God who only likes one particular group of people.
"Why would anyone believe in such a God?" Rohr asked. "It's an insult to our mind, heart and soul."
Though Rohr admitted that he never would have anticipated writing on a topic as seemingly orthodox as the theology of the Trinity, he has found that his latest work is resonating in unexpected places. He recently offered a talk based on his book to staffers at Google in Silicon Valley. Executives at Apple have also expressed interest hearing his latest teachings.
And the book is even resonating with musicians, including U2's Bono, who offered an endorsement on the book's back cover.
Though the results of election day have suggested a heightening of xenophobic, racist and misogynistic sentiments, Rohr believes that the growing interest in traditional theological ideas in non-traditional places and among non-religious people is a sign that consciousness of God is expanding and evolving.
"Yes, I do believe that God is saving the world," said Rohr, "and God goes on working."
---
Join the Conversation
Send your thoughts and reactions to Letters to the Editor. Learn more here [1]