We don't take her breath for granted
Soul Seeing
dreamstime_m_65002409_crop.jpg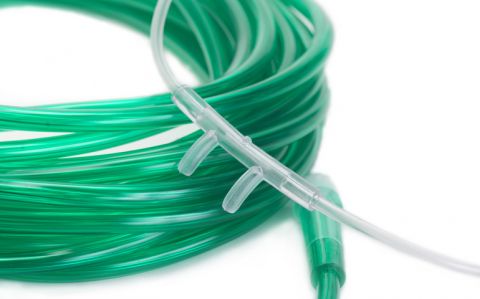 I rolled over and said, "I hope you're able to sleep tonight."
She responded drowsily, "I think I will ... once I can catch my breath."
Fran woke up three times during the night with long coughing spells. A respiratory illness can do that.
The lung issues emerged after her fourth and final chemo treatment for breast cancer eight years ago and, as she says, she's been living with "a hose in her nose" ever since. A 50-foot plastic cord connected to an oxygen-producing concentrator in our living room gives her access to our home, and I have learned the art of dodging the moving cord when we walk around the house.
"I want to be as active as I can for as long as I can," she announced on our way home from the hospital eight years ago. Fran is a woman of her word. "If it means that I die a few years earlier, then that's what it means."
Without trying to sound alarmist, I added, "Well, I believe in that principle but we need to draw the line on activity somewhere. I feel you're better off if you don't do ..."
Six years later, we're having that same conversation because it's not easy to make decisions about cutting back on activity, and we don't always agree.
The thing about the lungs is that they don't really get better. Once significantly damaged they don't revert to functioning like new again. The medications and breathing exercises are intended to prevent them from getting worse. And her illness is a progressively deteriorating disease. The idea is to slow down the decline.
"You know what I don't like," she says while I push her wheelchair in Kohl's looking for her new purse. "I don't like pity. I'm really grateful when people open doors and the disabled parking places are so helpful, but not pity. It makes me feel more helpless than I am."
I smiled when she said that, because Fran is definitely a fighter, always has been. She will fight for her clients (she still "sees" people in our home, helping them deal with a variety of personal and family issues). She will fight the weather to watch a grandson's soccer game. She will take vacations, give talks, attend meetings, lead support groups, follow the news, enjoy book club, play cards and games, visit people and, when possible, walk our treadmill. Her pulmonologist is amazed. I am too, frankly, but not surprised.
It is no wonder that breath is a symbol of God, the Holy Spirit. It's when she can't breathe that we don't take it for granted, and we know, really know, how essential it is. The all-pervasive, infiltrating presence of oxygen pumps life into our bodies. God indeed.
But her condition forces thoughts and talk about the future and death. As her limitations increase, "letting go" becomes more frequent, complex, real and necessary. "This is hard," she says, and I nod sadly because it is hard. For both of us.
Fran knows that letting go is a key to spiritual growth, to seeing life in its true perspective, in peeling things down to love, service, acceptance, forgiveness and joy. "But I can't let go of my breath that's being taken away from me. I know that in some way, I must let go of something, but not my breath."
Sometimes letting go of one thing means hanging on to something else.
"I think I have accepted my illness but then it evolves into something else, another level that I have to accept all over again."
Fran and I love to travel but it was mighty scary when we flew the last time and she couldn't get her blood oxygen level up to normal at 30,000 feet. Do we chance flying again? How do we decide? Just another limitation to accept?
Bronchitis sneaks into our home and leads to pneumonia, which squeezes more breath out of her. Lung capacity is down to 35 percent, and she walks slower and needs to sit in our living room on her way from the bedroom to the kitchen. As I get her "puffer," the always-present rescue inhaler, she insists, "I'm OK. I just need to breathe a little." It takes more than a month to recover from the bronchitis.
The doctor advises against going out in crowds for fear of infections, but our schedule includes church on Sunday, a movie on Tuesday morning, soccer game on Wednesday, the suicide survivor support group we run on Thursday, and bridge on Saturday.
She may send her "regrets" on something scheduled, but the principle remains: "I am not going to die before I'm dead."
Only one thing is as clear as the air we breathe: We are grateful for every breath she takes.
[Tom Smith is the author of eight books, most recently Church Chat: Snapshots of a Changing Catholic Church. He and his wife, Fran, live in Shiloh, Ill. You can read all of the Soul Seeing columns at NCRonline.org/blogs/soul-seeing.]
---
Join the Conversation
Send your thoughts and reactions to Letters to the Editor. Learn more here [1]