My 48,180-pound trash pile
Young Voices
20090720cnsbr00222_crop.jpg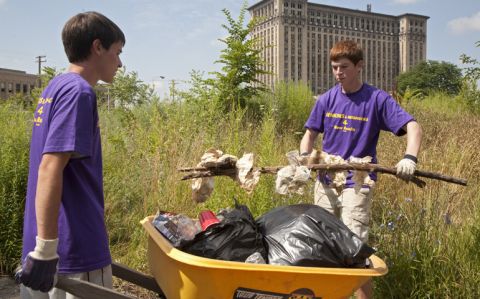 Four years of waste in a single mason jar?
"That's crazy!"
My reaction was similar to many who discover the story of Lauren Singer, a 25-year-old woman committed to a "zero waste" lifestyle.
I discovered Singer's TEDxTeen talk while preparing to teach my high school students about Pope Francis' encyclical Laudato Si'. How could I make the pope's call to environmental stewardship real and engaging for teens? Although it seemed daunting -- even impossible -- to calculate every item of a person's trash, Singer's commitment nonetheless intrigued me.
So much so, that my students and I ended up investigating our own trash. For one week, we tracked all our waste production: plastic bags, banana peels, straws, toilet paper and more.
At every turn, I seemed to generate more waste. Never before had I thought twice about fruit produce stickers or plastic clothing tags.
Seven days later, our lists revealed a stunning quantity of trash. The results seemed on par with the Environmental Protection Agency's estimate: the average American produces 4.4 pounds of trash daily or 1,606 pounds each year. My own 30-year lifetime pile of trash? That's a whopping 48,180 pounds. And that's just one individual. Think about adding up all the trash of over 300 million Americans. In 2013, the EPA calculated that Americans produced approximately 254 million tons of trash; only about 34 percent of this was recycled or composted.
"What will we do when there's no place left to put all the garbage?" Pete Seeger's words echo urgently in my mind.
It's an important question, as my 48,180 pounds of garbage are not going anywhere. Hundreds of my baby diapers, chip bags and countless other plastics will never biodegrade. My produce bags are going to exist for centuries after my death. My straws will forever be buried alongside the 500 million straws Americans dispose of every day.
On this Earth -- our "common home" -- we cannot throw away our trash. There is no "away." We pour this trash into our oceans, now filled with 46,000 plastic pieces per square mile. In our landfills, it generates methane -- a greenhouse gas 25 times more potent then carbon dioxide. My own waste piles up in the local dump, topped with an American flag that now marks the highest elevation point in the county. Although I am privileged to never see or smell my waste, it hasn't gone "away." My 48,180 pounds of trash has been relocated from my own backyard to someone else's neighborhood.
Needless to say, the seven-day waste investigation was as eye-opening for me as it was for my students. It has since been daunting to investigate my environmental impact -- a lifestyle so unsustainable that, were it adopted by all people in the world, nearly five planets would be needed to support us all. This process, however, has also invited me to reflect anew on the vital link between environmental stewardship and my Christian faith.
Without doubt, the environmental challenges facing our planet are among today's most pressing ethical issues. Responding with the full weight of his papacy in Laudato Si', Pope Francis denounces ecological degradation as a sin that reduces God's creation to "among the most abandoned and maltreated of our poor" (Laudato Si', 2).
In his push for action, the pope has supported the Paris Agreement, a landmark global climate pact just recently ratified by the USA and China. Last week, he added care for our common home as a spiritual and corporal work of mercy.
Pope Francis' witness compels us to ask: What is my relationship with the Earth? How am I called to care for God's creation? Can my lifestyle honor the integral connection between human life and our Earth?
As highlighted by our class investigation, waste management is just one aspect of these larger questions. Recast in this light, Lauren Singer's lifestyle doesn't seem so bizarre. Her approach is a necessary, even prophetic response to a moral crisis that is already profoundly impacting our planet's future.
No magic solution exists. God will not swoop down from heaven to clean up our trash. In the words of Alice Walker, "we are the ones we have been waiting for."
As Christians called to hope through the Resurrection, we can each take concrete action. We have been graced by Christ's own outpouring of love for us -- a love that can shape and sustain our response in our families, workplaces, church and in the broader community. Those of us privileged with time, resources and education bear particular responsibility.
Fortunately, we are the ones we have been waiting for. We don't need to wait any longer.
We can simply begin by taking time to reconnect with our Earth. Powerfully, Laudato Si' calls us to cultivate a sacred awe and gratitude for God's creation. Here, we are invited to an "ecological conversion" steeped in a "loving awareness that we are not disconnected from the rest of creatures, but joined in a splendid universal communion" (Laudato Si', 220). Responding in love to God's own generosity, we can give ourselves generously for the Earth.
Start with one step. Choose just one.
Begin, perhaps, with your own seven-day trash investigation. As Singer suggests, get to know your garbage. What waste do you produce? Are there products you can recycle or replace with reusable alternatives? Even a few simple steps can reduce the amount of your daily trash.
For example, do you really need a plastic bag to hold just a couple of items? Consider bringing your own reusable shopping bags to the grocery -- including reusable produce bags. Find opportunities to shop bulk food aisles and local farmers' markets. Sign up for a compost workshop to reduce your food waste, turning it into rich soil instead of relying on synthetic fertilizers.
Many sustainable action steps do not need to be taken alone. There is tremendous community-building potential in gathering your parish, school, workplace and/or family to create a waste reduction program. You could even start by engaging your local community this weekend; learn how to reduce your car emissions waste by checking for local area events to celebrate National Drive Electric Week.
There are countless possibilities for getting started. As Pope Francis reminds us, "all of us can cooperate as instruments of God for the care of creation, each according to his or her own culture, experience, involvements and talents" (Laudato Si', 14). We are the ones we have been waiting for.
[Jennifer Mertens teaches religion at a Catholic high school in Cincinnati. She holds a Master's of Divinity degree from the Catholic Theological Union.]
Editor's note: We can send you an email alert every time a Young Voices column is posted to NCRonline.org. Go to this page and follow directions: Email alert sign-up.
---
Join the Conversation
Send your thoughts and reactions to Letters to the Editor. Learn more here [1]