Twin Cities archdiocese puts forth amended bankruptcy plan
20160721T1205-4733-CNS-ST-PAUL-CHARGES-DROPPED (1).jpg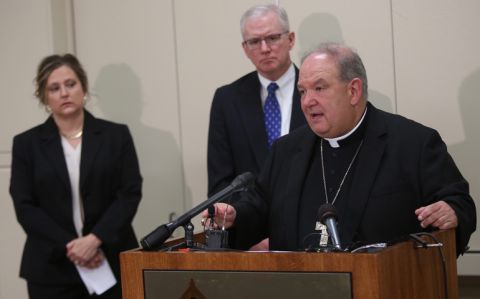 An amended bankruptcy plan for the St. Paul-Minneapolis archdiocese would potentially double the funds set aside for its creditors to the tune of as much as $133 million. Despite that increase, attorneys representing the 440 claimants say that the archdiocese's contribution to the trust falls well short of its total assets, what they estimate above $1 billion, as does the per-person payout when compared to past similar settlements.
The amended plan, filed in U.S. bankruptcy court Tuesday morning, calls for between $126 million and $133 million in cash placed in a trust for creditors, who are survivors of sexual abuse by clergy. The bulk of that, just below $100 million, would come from archdiocesan insurers. Another $5 million to $6 million would come from the archdiocese's general insurance fund, and $13.7 million would be contributed by insurers for the archdiocese's 187 parishes.
The archdiocese itself would contribute $13.8 million to the trust, along with paying an additional $500,000 to establish a counseling fund for abuse survivors.
---
More: "Twin Cities' Hebda: Archdiocese's response to abuse allegations was failure, not a crime" (Aug. 3, 2016)
---
If funded to its maximum, the total contributions in the amended plan would more than double the $65 million the archdiocese proposed in its initial bankruptcy plan back in May. A bulk of the new money comes from additional settlements between the archdiocese and its insurers, with agreements now reached with 11 of its 13 insurance providers.
In its court filings, the archdiocese added that claims against the remaining two insurers "have significant value, potentially many millions of dollars," which if secured would be added to the creditor trust. It also reported that the unsecured creditors committee deemed 6 of the 11 insurance settlements — all of which are contingent on court approval of the bankruptcy plan — as "reasonable."
While "at first blush" the new proposal seems like a lot of money, it "falls so far short" when compared to settlements in other dioceses, Jeff Anderson, an attorney for the creditors, said at a press conference Tuesday afternoon outside the federal courthouse in Minneapolis.
"This is a sham. It is deficient, and it's misleading, and so we really have to call it out for what it is," he said.
The archdiocese in its court filings contends that its proposed payment exceeds those in 90 percent of previous diocesan bankruptcies. But Anderson told NCR that the bulk of past diocesan bankruptcies — such as those recently reached in Milwaukee, Helena, Mont., and Gallup, N.M. — are unfair comparisons because most did not involve a period of open statute of limitations, as was the case in Minnesota. The 2013 Minnesota Child Victims Act opened a three-year window into its statute of limitations.
The more apt comparisons, Anderson said, come in bankruptcy settlements reached in Wilmington, Del., and San Diego, Calif., in addition to a series of settlements outside bankruptcy in other California dioceses throughout the past decade and a half.  
In 2011, the Wilmington diocese resolved its bankruptcy through a $77.4 million settlement with 152 claimants, a $509,210 average payout. Four years earlier, the San Diego diocese reached a $198.1 million settlement with 144 claimants, for a $1.375 million average payout.
Another 10 mass settlements in California reached outside of bankruptcy also equaled or eclipsed an average payout of $1 million per claimant. That includes a $144 million settlement in 2006 by the Los Angeles archdiocese that closed 86 cases (roughly $1.7 million per person), and a year later, a $660 million settlement with 508 alleged abuse victims (approximately $1.3 million per person). That settlement, the largest such payout in U.S. church history, included $250 million paid by the archdiocese.
By comparison, the Twin Cities archdiocese's amended plan would equate to an average payment anywhere from $286,363 to $302,272 per claimant.
"But I'm not going to let them be discounted, betrayed, dismissed, ignored and minimized the way they were as kids again by this archdiocese, who made a pledge to put survivors first," Anderson said.
The estimated average payouts per person do not factor in lawyer fees and variations in the allocation of funds among the alleged victims. As of July, attorney fees have surpassed $11 million, according to court filings.
Creditors' attorneys have also raised issue with the archdiocese's proposed contributions in the amended plan, arguing that it has shielded the bulk of its assets from the bankruptcy proceedings, including listing the value of the Cathedral of St. Paul and several high schools at zero. A motion for substantive consolidation, filed days before the archdiocese unveiled its bankruptcy plan, alleged the archdiocese and its parishes held $1.4 billion in assets (largely in the parishes), and another $300 million through separately incorporated organizations; that would place its proposed contributions at less than 1 percent of its assets, Anderson said.
A judge dismissed the creditors' motion in late July. That decision has been appealed.
A competing settlement plan proposed by the creditors' committee in August would have the archdiocese provide $80 million, with another $19 million from insurance settlements and then allow the creditors to bring suit against the remaining non-settling insurance companies. It would also have the archdiocese release its full investigation into sexual misconduct by Archbishop John Nienstedt, who resigned in June 2015.
---
More: "Memo: Vatican nuncio quashed sexual misconduct inquiry of Archbishop Nienstedt" (July 21, 2016)
---
The hearing on the two competing plans is set for Dec. 15.
The Twin Cities archdiocese filed for Chapter 11 reorganization in January 2015. That decision came on the heels of a spiraling clergy sexual abuse scandal that led to the resignations of several high-level officials, including Nienstedt, numerous task forces, restructurings and recommendations, and criminal charges against the archdiocese, which were dropped in July.
Since 2004, 13 U.S. dioceses have filed for bankruptcy. Of those, 11 have reached settlements. In addition to the Twin Cities, proceedings continue in the neighboring Duluth, Minn., diocese.
[Brian Roewe is an NCR staff writer. His email address is broewe@ncronline.org. Follow him on Twitter: @BrianRoewe.]
---
Join the Conversation
Send your thoughts and reactions to Letters to the Editor. Learn more here [1]