Finding food now in Haiti is not shopping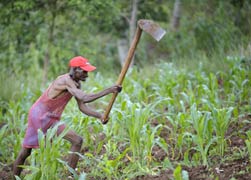 A farmer hoes his field of corn in the Haitian village of Mizak in 2009. (CNS/Paul Jeffrey)
The last time my son-in-law, Corey, went to Haiti, I requested a souvenir from the gift shop at the Port-au-Prince airport. I wanted him to bring me a poster of "Les Chefs d'État d'Haiti, 1804-2011." This display of the pictures of Haiti's presidents -- individuals, as well as committees that have ruled throughout Haiti's last 200 years -- tells the length of each person or cadre's tenure.

Job security is not a feature of Haitian political life. There's Pierre-Louis Nemours, who served from Dec. 12, 1956, to Feb. 3, 1957. Sylvain Franck succeeded Nemours on Feb. 7, 1957. By April 2, 1957, he, too, was out of office.
Retirement benefits don't seem to be an issue, either. Guillaume Sam Vilbrun managed to keep his post from March 9, 1915, to July 27, 1915 -- beating the yet-to-be-set records of Nemours and Franck by almost two months -- before he was assassinated on July 28, 1915.
Violence goes with the office. The first two Haitian presidents died violently: Jean-Jacques Dessalines by assassination and Henri Christophe by suicide.
Read the full story: Finding food now in Haiti is not shopping
---
Join the Conversation
Send your thoughts and reactions to Letters to the Editor. Learn more here [1]