US activists answer: What is patriotism?
07042014p08pha.jpg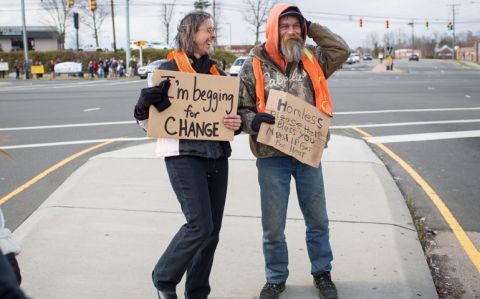 What comes to mind when you think of the word "patriot"? George Washington crossing the Delaware River, a Union soldier tapping on a timpani, or dusty American soldiers huddled in trenches? For most Americans, the word patriot probably does not conjure up images of peace activists throwing blood onto nuclear facilities, black men and women refusing to get up from segregated lunch counters, or journalists exposing classified government documents. But should it?
During his 2008 presidential campaign, then-Sen. Barack Obama delivered a speech titled "The America We Love." He reflected on the meaning of patriotism, and even though he mentioned flag-waving and military sacrifice, Obama also took note of U.S. dissidents.
"Precisely because our ideals constantly demand more from us, patriotism can never be defined as loyalty to any particular leader or government or policy," Obama stated. "When our laws, our leaders or our government are out of alignment with our ideals, then the dissent of ordinary Americans may prove to be one of the truest expression of patriotism."
NCR posited two seemingly simple questions to a group of U.S. activists, each of whom has years of experience resisting militarism, war and violence: What is patriotism, and are you patriotic? David McReynolds, an activist since the 1950s, explained, "Old radicals usually try to avoid these tricky questions!"
Following is a sampling of responses.
David McReynolds, 84, worked for the War Resisters League from 1960 until his retirement in 1999. On Nov. 6, 1965, he was one of five men who publicly burned their draft cards at New York's Union Square, merely three months after the United States declared public draft-card burning a felony. In 1980, McReynolds became the first openly gay man in U.S. history to run for president of the United States, representing the Socialist Party USA.
What is patriotism?
At 84, and having been active for many years in the War Resisters League and the Socialist Party, particularly in the struggle to end the Vietnam War, I've had much reason to think about the meaning of patriotism. My primary allegiance is not to the United States but perhaps to my own immediate community here in the Lower East Side [of Manhattan], which I can "touch and feel." It is impossible for me to feel either "loyal" or "disloyal" to the United States. There is so much good in our history that I affirm, and so much evil, which I must oppose, that I think the best definition of patriotism is loyalty to the human race, under constant threats of war and environmental devastation, not to any single nation state.
Are you patriotic?
My life has taken me to so many different countries, each with its own values, so I want to affirm loyalty to that greater community.
Tom Cornell, 80, is a 60-year veteran of the Catholic Worker movement. Cornell is co-founder of the Catholic Peace Fellowship and Pax Christi USA. He is a former member of the executive staff of Fellowship of Reconciliation, as well as a former executive committee member of the War Resisters League and the Workers Defense League. In July 1963, Cornell led what many call the first American protest against the Vietnam War. He called for the public burning of draft cards at New York's Union Square in 1965.
What is patriotism?
A sentiment of identification with fellow citizens seeking to serve their best interests in the context of the universal common good.
Are you patriotic?
Yes, in my own terms, I am patriotic. But I cannot be proud of broken treaties with the native peoples or of slavery. I cannot be proud of the economic exploitation of blacks, immigrants and workers in this "filthy rotten system." I cannot be proud of the elaborate fabric of lies that portrays this country as "the best ever." And I cannot be proud of our interminable wars!
Rosemary Maguire Thompson, 61, is currently executive director of the P. Francis Murphy Initiative for Justice and Peace in Baltimore, and is passionate about ending human trafficking. Thompson lived and worked with the United Farm Workers, has worked with both Plowshares' Jonah House and Viva House Catholic Worker, and spent two years as a Jesuit Volunteer Corps member.
What is patriotism?
By its very definition, patriotism calls for love and devotion to one's country. My love and devotion is to God and her creation. As a woman committed to Christian nonviolence, I find patriotism at odds with those values. My country is neither more precious nor less responsible than any other country. We are not exceptional. We are part of a whole. The wealth of the earth belongs to all. My core belief is Jesus' commandment to love one another without exception. Sadly, patriotism has been the pretense for wars. It serves as an excuse for death and destruction. I cringe when displays of red, white and blue, the "stars and stripes," are pulled out as a symbol of freedom because the American flag was disgraced the first time it was held as an image of triumph over others. I am in awe of the men and women who imagined a nation built on life, liberty and justice. I love the ideals of America. I love the grandeur and beauty of America, but the splendor is marred by shadows. We neglect the poor and vulnerable. The land bears the scars of strip mining, fracking and fallow fields.
Are you patriotic?
I was a child when heroes for justice were shot, imprisoned and discredited. I lost hope for my country the night Robert Kennedy was murdered. I have lived my life insisting on justice for all. Freedom demands accountability. Justice demands a conscience. My love of freedom is fierce and my desire for justice is deep. Does that make me patriotic? It should!
Brian Terrell, 57, is a 40-year veteran of the Catholic Worker movement, a co-coordinator of Voices for Creative Nonviolence, and a longtime peace activist. Terrell was arrested in 2009 for protesting drone warfare at Creech Air Force Base, Nev., and in 2013, he served six months in Yankton Federal Prison for protesting drone warfare at Whiteman Air Force Base, Mo.
What is patriotism?
Samuel Johnson famously defined patriotism as "the last refuge of scoundrels," yet in Ambrose Bierce's 1906 Devil's Dictionary, he politely refuted Johnson: "With all due respect to an enlightened but inferior lexicographer I beg to submit that it is the first." Leonard Cohen's definition might work, too -- "I'm sentimental if you know what I mean/I love the country but I can't stand the scene."
Are you patriotic?
No. Frederick Douglass' 1846 letter to abolitionist William Lloyd Garrison resonates with me: "If ever I had any patriotism, or any capacity for the feeling, it was whip[ped] out of me long since by the lash of the American soul-drivers. ... America will not allow her children to love her. She seems bent on compelling those who would be her warmest friends to be her worst enemies. May God give her repentance before it is too late, is the ardent prayer of my heart. I will continue to pray, labor, and wait, believing that she cannot always be insensible to the dictates of justice, or deaf to the voice of humanity."
Beth Brockman, 51, is an educator and peace activist from Raleigh, N.C. She has been arrested more than a dozen times for actions of civil disobedience, and is currently active with Witness Against Torture, North Carolina Stop Torture Now, and the Catholic Worker movement.
Are you patriotic?
In the grand scheme of things, I tend to resist labels. I find them restrictive and, frankly, unhelpful when I am trying to really get to know myself, God and others. Over the years I have been labeled lots of things -- a communist, a terrorist, a feminist, a protester, a troublemaker, a freeloader, an activist, a hippie -- but never a patriot. Never. Thinking about the word patriot reminds me of a trip I took with my daughter to visit historic Williamsburg, Va., when she was about 11 years old. Various re-enactments took place around the town; one such re-enactment was a speech by ... a patriot! He described himself as a freedom fighter, a member of a resistance movement, someone opposing enemy forces. Perhaps I am that sort of patriot. And, yet, I am hardly that. Sure, I am a peace activist, and one who has on occasion risked arrest. But my actions have been mainly symbolic, and, if truth be told, out of a place of privilege.

To me, the true patriots are not people like me. They are people like my undocumented friend Marco Saavedra, who in 2012 purposely got himself arrested in order to get into the Broward County Jail in Florida so that he could talk to the undocumented there and work for their release rather than deportation; or friend Camilo Mejia, who was the first U.S. combat veteran to refuse to redeploy to Iraq; or the fast-food workers arrested [in May] outside McDonald's headquarters; or Shujaa Graham, a man exonerated from death row in 1981, who was arrested for trying to stop the 1,000th execution in the modern era of the death penalty from taking place in North Carolina in 2005.

And then there are the ordinary sorts of patriots -- my neighbors down the street who refer to their particular area of the block as "the compound," which consists of a brother and his family living next door to his sister and her family. These are neighbors who hang out in the street with a bottle of beer in hand, shouting out, "Car!" so as to alert the gaggle of children who are riding bikes and scooters and skateboards. Or a group of friends who have formed "North Street," abled and disabled folks committed to living together. They are taking part in the ultimate form of resistance -- community.

Chris Brandt, 70, teaches poetry in the English Department in the Peace and Justice Studies Program at Fordham University. He protested against the Vietnam War, was involved in the anti-nuclear movements of the late 1970s and early 1980s, and is a member of Witness Against Torture. Brandt is also a translator, a carpenter and furniture designer, and a theater worker.
What is patriotism?
Patriotism is the last refuge of a scoundrel -- says Mark Twain, Oscar Wilde, Bob Dylan, me -- but that doesn't really define it, so I'd say it's simple love of the country one gets born into, and thus fairly universal and relatively meaningless as any sort of policy. It's when it gets stood on its head and defined as love of one's own country, to the exclusion of any other place, and then moves into the modes of "we're No. 1" and "hate everyone else" that patriotism becomes stupid and dangerous.
Are you patriotic?
I am not patriotic, beyond the simplest sense.
Joanne Kennedy, 45, has been involved in the Catholic Worker movement for more than 20 years. She is the current editor of The Catholic Worker newspaper and a member of Witness Against Torture.
What is patriotism?
Personally, I think a patriot is a person who loves the land and the people from whom they stem. A patriot seeks what is truthfully best for that land and its people.
Are you patriotic?
I am a patriot under that definition -- though the borders made by men have no bearing on my feelings of love and compassion.
Christine Fogler, 64, is a teacher, a supervisor of future teachers, and an Affirmative Action officer. She has taught classes in a local prison in Bordentown, N.J., joined marches, attended rallies, and attended trials such as that of Chelsea Manning last summer.
What is patriotism?
In keeping with the thoughts of Howard Zinn, a beloved historian and friend, I will believe, as Howard did, that patriotism is a love of one's country and one's fellow citizens all over the world, and not blind obedience to government, and not a worship of flags and anthems. It is also a loyalty to the principles of justice and democracy, which sometimes obliges us to question government actions that violate those principles.
Are you patriotic?
I believe I am very patriotic because I adhere to the beliefs I described above. My actions speak louder than my words. As an activist, I try to spread the word about social justice and encourage others to do the right thing through my teaching.
Lydia Wylie-Kellermann, 28, is a writer, activist and mother. She has been formed by the Catholic Worker movement, Jonah House, Witness Against Torture, Meta Peace Team, and the Detroit resistance community. She works with Word and World: A People's School, working to bridge the seminary, sanctuary and street (and now the soil).
Are you patriotic?
I am not patriotic. I believe that patriotism is the celebration and allegiance to the United States of America. My life and work do not belong to the flag. Instead, I pledge my allegiance to a borderless God of love, to the work of justice, to the waters that nourish my watershed, to nonviolence, to creation, and to the building of the Beloved Community.
Ellen Barfield, 57, is a former soldier in the U.S. Army. She works with Veterans for Peace, War Resisters League, School of the Americas Watch, and other peace and justice advocacy organizations. She is involved in nonviolent civil resistance actions, vigils, teach-ins, lobbying and social justice writing.
What is patriotism?
I have avoided calling myself patriotic because the word and concept have been so manipulated in the "my country right or wrong" and "love it or leave it" mold. Patriotism tends to support making war anytime, anywhere. But in writing a several-page biography for an activist compilation, I found myself writing that "the real patriotism of challenging my country is to rise above its baser instincts" -- by doing civil resistance against war, specifically against attacking the impoverished people of Afghanistan.
Are you patriotic?
So using the idea expounded above, I guess I am. I do not love my country's government, in fact, I am deeply ashamed of wars and other abuses done in my name, but I do love the people and the beauty of my country, which, while no dearer or more beautiful than any other place, happens to be the one I know. And I take my responsibility to be an informed and outspoken citizen seriously. I am not proud to have supported U.S. foreign policy with my body as a soldier in the U.S. Army and to have been part of occupying forces in West Germany and South Korea, but I am proud to have used the lessons I learned in that experience to now speak out about opposing war and occupation.
Chrissy Nesbitt, 31, is a public school teacher and is affiliated with the Southern Life Community and Witness Against Torture. She lived and worked in community with other peacemakers for a few years, planning and attending vigils and doing support work for Disarm Now Plowshares and Transform Now Plowshares.
Are you patriotic?
I love apple pie and the National Park System, but I do not use the word "patriotic" to describe myself. The word is too fraught. It's too wrapped up in an ersatz religion that worships flags, that believes in unbridled capitalism and nuclear deterrence as doctrine, and uses the name of God to consecrate war.
Gigi Gruenke, in her "third period of life," spent seven and a half years in El Salvador as a Maryknoll Lay Missioner, and she continues to be involved with trauma team work there and with torture survivors here. Her activism also includes opposing the use of drones and releasing detainees at Guantánamo. She belongs to Pax Christi and the National Association of Social Workers.
What is patriotism?
For me, patriotism is awareness of national identity and commitment to the just, honorable and compassionate function of one's nation of birth.
Are you patriotic?
In light of the above definition, I am. In terms of some of the connotations of U.S. patriotism -- that this country is exceptional and thus has exceptional privileges irrespective of international laws -- I am most certainly not patriotic.
Judith Kelly, 68, is a former School of the Americas Watch prisoner of conscience with a longtime connection to Latin America, having participated in many human rights delegations to Central and South America. She is currently a member of Pax Christi and participates in a monthly vigil at the gates of the CIA to witness against armed drones. She also has been involved in Witness Against Torture for nearly a decade. She is writing a book about Polish martyr Fr. Jerzy Popieluszko, a nonviolent witness during the 1970s and early 1980s.
What is patriotism?
Patriotism is love of country, and not love of government policies. I love the ideals that the United States represents -- freedom of conscience, freedom to speak and act, freedom to choose our paths with the can-do spirit that attracts so many to our country -- and yet I believe that we are not living up to those ideals and I question my own sense of patriotism if it is only defined by "my country, right or wrong." I want a country that knows right from wrong, and sincerely cares about others. The nationalistic spirit of Fourth of July does not appeal, nor do extravagant fireworks -- to me, they appear to be the bombs bursting in air that celebrates militarism.
Are you patriotic?
I feel that I am a global citizen, and I work to make my country, full of goodhearted and decent people, go a bit deeper into the history of U.S. interventions or institutions like the CIA or NSA or SOA.
[Megan Fincher recently concluded her time as an NCR Bertelsen intern.]
---
Join the Conversation
Send your thoughts and reactions to Letters to the Editor. Learn more here [1]