Millennials organize to advance consistent life ethic
lmj1_Crop.jpg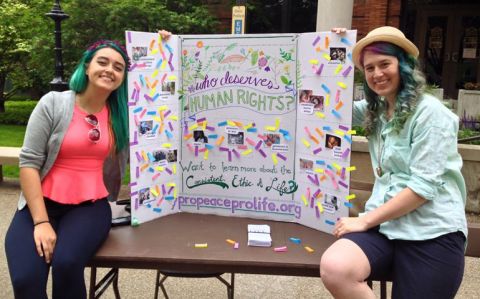 Pittsburgh — They're Catholics, Protestants and secularists, veterans of pro-life and anti-poverty groups, with roots in different political parties. While some members live near the Life Matters Journal "home base" in Pittsburgh, others are part of a digital network that spans the country.
But each 20-something member of the Life Matters team interviewed for this story has something in common: a moment they can pinpoint in which their perspective changed, leading them to embrace an ethical outlook that spans the period between conception and death -- and poses an implicit challenge to both of the main political parties.
While the consistent life ethic -- as it was characterized by Chicago Cardinal Joseph Bernardin in the 1980s -- is not new, the men and women engaged in this millennial-sourced movement are purposefully building bridges across chasms that once would have divided them: politics, religion and the constraints of geography itself. Their work is directed at ridding the world of euthanasia, abortion, war and other instruments of what they term "aggressive violence."
Though it owes a historical and philosophical debt to the Roman Catholic church -- and many staff members are Catholic -- Life Matters Journal (its magazine is published eight times a year) characterizes itself as a nonsectarian, nonpartisan human rights organization committed to promoting conversation and providing opportunities for education.
For executive director Aimee Murphy, her illuminating moment came during a fraught conversation prompted by a pregnancy scare that she had in high school with her then-boyfriend, a young man she characterizes as abusive and emotionally manipulative. If his parents found out they were expecting, he told her, he might kill her and then himself.
"In that moment, I knew that violence could not be the answer or the solution," she said. "If I was to die, I would be the victim of violence. What right did I have to perpetuate the cycle of violence against a child? In that moment, nonviolence became my philosophy."
While a part of the pro-life group at Pittsburgh's Carnegie Mellon University, Murphy, who was raised Catholic, began to realize that it was inconsistent to oppose abortion but support other kinds of structural violence, like the death penalty.
As her group began to be explicit about the consistent life ethic that undergirded its activism, other students in the secular environment of the campus community were drawn into the conversation, she recalled.
Murphy, currently Life Matters' only full-time employee, said that the organization uses the same type of fundraising model that missionaries and other pro-life organizations rely on.
"We don't have big donors," she said. "We're just doing what we can to make sure the work keeps growing."
The organization is frequently called to address groups at high schools and in conference settings, where Murphy observes that the audience often has to struggle first with their own ideological preconceptions before they can "work through their own double standards" and come to terms with a philosophy that doesn't fit neatly into a particular political party.
"The writing is on the wall given the demographic future of the pro-life movement," wrote Fordham University ethics professor Charles Camosy in an email. "There is no chance it will be limited to a 1980s-style approach that is identified with the Republican party, but will be more like a Pope Francis approach which resists the throwaway culture and protects the vulnerable in all circumstances. Not just when it fits with a conservative political agenda."
Life Matters staff are engaged in sponsoring the Life/Peace/Justice Conference (the most recent was held April 22-24 at Villanova University), producing the magazine, and forging associations with other related groups and various online forums, including a YouTube channel ("Consistently Quirky") and an online community called "The Fellowship of the Geeks."
"A lot of the core followers of Life Matters Journal are young people really fed up with the system the way it is," said Murphy. "They find that both parties really don't respect the dignity of the human person and they are looking for a way forward."
Layout editor Maria Oswalt, a rising senior at the University of Alabama who was raised Catholic, said she was a death-penalty proponent in high school. But when she got to college and joined the pro-life group, she met other students who saw life issues through a broader lens and began to question her own assumptions.
In conversation, it's important to focus on individual concerns rather than speaking in generalities, she said. "I think that makes people a lot more open and willing to listen to what we have to say."
"It is not fair, but one problem for the pro-life movement is that we are often simply labeled as 'religious' and therefore marginalized from public discourse," said Camosy, author of Beyond the Abortion Wars: A Way Forward for a New Generation. "Explicitly drawing connections with secular movements not only makes sense theoretically, given that pro-life views are based on principles shared by multiple traditions (both secular and religious), but also strategically, given that this undermines attempts to marginalize pro-lifers by claiming that we are simply trying 'impose our religion' rather than campaign for nonviolence and basic human rights."
Rosemary Geraghty, a junior at the University of Pittsburgh and an intern for Life Matters, has been an advocate for the pro-life movement since high school. But it wasn't until she met Murphy in college that she encountered the consistent life ethic.
"It all made sense to me," she said. "When I started reading about it, it was what I had been looking for."
Nonreligious herself, Geraghty said that it's possible to have a dialogue on the logic of a consistent life position without getting drawn into a discussion of religion, which can ostracize those who don't practice a faith.
"It's so important to go to outreach events and talk to people who don't agree with us or oppose us," she said. "Once we start to discuss consistent life, you can see the light go on [in] people's eyes."
Appropriately enough for this tech-savvy group of young activists and educators, Life Matters Journal emerged out of a virtual, Facebook-facilitated conversation between two people who didn't know each other (and have only met in real life a few times since): Murphy and Nicholas Neal. Then a college student at Southern Illinois University Carbondale, Neal began as managing editor and is now Life Matters board president.
Raised as an evangelical Protestant in Teutopolis, Ill., Neal credits Catholics with articulating a perspective on the sacredness of human life that can be applied across the board.
"This is something I came to. I wasn't indoctrinated," he said, expressing a mixture of gratitude and frustration that the personal philosophy that seems so self-evident to him isn't getting more of a hearing.
Like others involved in the organization, Neal, a freelance video editor now living in Los Angeles, sees a consistent life approach as a way to bring people of diverse interests and convictions ("people who are willing to break with their own tribe") together.
Virginia resident Lisa Twigg, social media coordinator for Life Matters, and raised as a nondenominational Protestant, has been a pro-life activist since she was a teenager. After attending a Life Matters conference and hearing a talk by a man who had been put on death row and later found to be innocent, she concluded, "It should not be our policy to decide who live and who dies."
At the conference, Twigg met Murphy, who has become not only one of her best friends, but an inspirational leader.
"Aimee doesn't see herself as much of a dynamic leader as she is," said Twigg, an expert in mixed martial arts who gave a workshop on nonviolent self-defense at the Villanova conference this past spring. "She has something about her that just inspires you to work against injustice, compelled by her drive and care for humanity to do something. When you work for someone like that, you can't help but be motivated to do your best."
[Elizabeth Eisenstadt Evans is a regular contributor to NCR.]
---
Join the Conversation
Send your thoughts and reactions to Letters to the Editor. Learn more here [1]