Author Daniel E. Dawes comes to the defense of Obamacare
ss10072016p05pha.jpg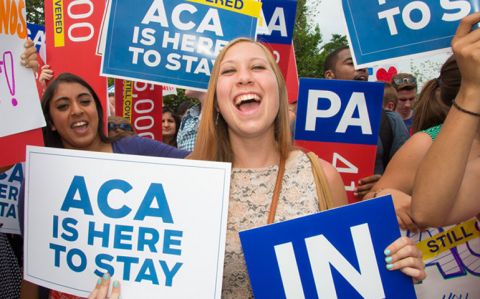 Editor's note: The following story originally appeared in the Fall Books Special Section of the NCR print issue dated Oct. 7-20, 2016. This is a sample of the kind of specialized reporting exclusive to NCR's print subscribers. Subscribe now to our print and Kindle editions.
In his new book, 150 Years of Obama-Care (Johns Hopkins University Press), attorney Daniel E. Dawes recounts the backstory of the creation and implementation of the Affordable Care Act (ACA), arguing why it is the greatest equalizer in health care and the most inclusive law ever produced by the U.S. Congress.
Dawes is the executive director of health policy and external affairs at Morehouse School of Medicine and is the co-founder of the Health Equity Leadership and Exchange Network (HELEN). An instrumental player in a large coalition of organizations that helped shape what is still known as "Obamacare," Dawes offers unparalleled insight into the efforts by President Barack Obama's administration, Congress and external stakeholders to accomplish one of the most challenging legislative feats in the history of the United States and highlights what is at stake for health care access come this election.
NCR: What inspired you to write 150 Years of ObamaCare?
Dawes: I wrote 150 Years of Obama-Care so that current and future generations of health equity advocates, students and scholars can learn from our efforts, build upon our successes -- understanding what strategies we employed and why, what challenges we faced internally and externally, and how we overcame them during the incredible efforts to develop and pass comprehensive health reform. This book was written to highlight how history was made, to put readers in the front seat and help them get a clearer view of the incredible turning points in the health equity and health reform movements so that we can continue to effect the changes necessary to improve the health of all communities.
Overall, I wanted to give readers an engaging, enlightening and thought-provoking view on the creation, impact and future of Obamacare -- setting the record straight during this critical time and providing a road map for ensuring we have a more equitable, accessible and person-centered health system.
What would happen to Obamacare if a Republican won the presidency?
Republicans have tried to repeal Obamacare 62 times, and they came closer than ever before earlier this year. They were only stopped by a presidential veto. If Republicans win the White House and hold their majorities in the Senate and House, they would likely kill the ACA as we know it and millions who have gained mental health, maternity health, and rehabilitative and habilitative coverage would lose these critical benefits. If Obamacare were repealed, it would likely increase the number of uninsured Americans by 15 to 20 million -- a development that would disproportionately harm African-Americans, Hispanics and Native Americans.
What is state obstructionism doing to Obamacare?
Obstructionism has made it very difficult to fully realize the benefits of the ACA. In states, particularly in the South, that have refused to expand Medicaid, there are millions of low-income individuals and families that have fallen into the coverage gap: They cannot afford private insurance but they're ineligible for Medicaid, leaving them uninsured.
Studies have shown that the majority of those who fall into the coverage gap are women and people of color, primarily Hispanics and African-Americans. So the states' refusal to expand Medicaid is disproportionately impacting minority populations and will exacerbate health disparities for people of color.
But this issue has ripple effects that can negatively impact us all in the form of hospital closings and longer ER wait times. The uninsured still get sick and need health care, and when they do, they usually end up in hospital emergency rooms, which must treat everyone, even those who are unable to pay. So the states' failure to expand Medicaid has become a tremendous financial burden on hospitals as they continue to treat uninsured patients but don't receive any reimbursement.
We are seeing hospitals closing throughout the South. They wouldn't have to close if their states would simply expand Medicaid.
How is Obamacare working for the most vulnerable populations?
The Affordable Care Act has greatly helped many of our most vulnerable people. Those with pre-existing conditions can no longer be denied coverage or have their rates increased, and insurance companies can no longer drop someone when they get sick.
So far, more than 20 million Americans have gained health insurance coverage since the passage of the ACA, and those gains have been particularly strong for Caucasians, African-Americans and Hispanic populations, which saw their uninsured rates drop by more than 50 percent, 50 percent and 25 percent, respectively.
There is still much more work to be done, like expanding Medicaid in all 50 states, improving cultural competency among providers, and implementing delivery and payment reforms that both improve quality of care and support our safety-net institutions.
How many people remain uncovered and what can be done to remedy that?
According to a recent survey by Gallup and [the Department of Health and Human Services], about 11.5 percent of American nonelderly adults remain uninsured. That's a historically low rate, down from approximately 20 percent in 2012 when the bulk of the ACA went into effect.
But that still means that one in 10 Americans lack health insurance. We can and must do better. The single best way to address that would be for the 19 states that haven't done so to expand Medicaid. That alone would extend coverage to the 3 million low-income individuals who currently fall into the coverage gap.
Why does Obamacare poll so badly?
Even before Obama was inaugurated, Republicans have openly made it a matter of policy to oppose anything coming out of this White House. That alone has ensured that almost half the country would dislike not only this bill, but any bill Obama proposed.
Moreover, as negotiations over health reform were heating up in 2009, opponents outspent proponents of health reform seven to one in advertising against the law. After passage of the ACA, opponents more than doubled their spending to drum up negative views about Obamacare.
At the other end of the spectrum, many liberal Democrats, including Bernie Sanders and his supporters, think the bill should have gone further and done more.
Despite the ACA's low approval ratings, the bill's individual provisions, such as Medicaid expansion, coverage for those with pre-existing conditions, preventative care, and cancer screenings, are very popular. People want to be protected in these ways.
That is part of the reason I decided to write this book: I want people to know the real story of what went into the law, why it was needed, and how it will help our health care system.
Besides a Republican president trying to repeal the ACA, what are the bill's biggest challenges going forward?
With any legislation, and especially with a bill this massive, there are technical drafting errors or unforeseen problems that are often corrected in subsequent legislation called technical amendments. But Republicans have largely refused to help make the law work better in any way.
There is something called the family glitch that was unintentional but makes it harder to get family coverage than individual coverage on the exchange. This disproportionately harms women and children and should be fixed with a technical amendment, but Republicans have refused to do so.
Another area that needs a fix is to the so-called Cadillac tax, which imposes a fee on high-cost health plans. Unfortunately, it was not adjusted to account for regional cost differences and has unintentionally been imposed on some Medicaid plans.
Funding certain programs and provisions year in and year out is a challenge, as is convincing states to expand Medicaid and fully implement other aspects of the law.
The Affordable Care Act continues to face challenges from religious groups, most notably from Roman Catholic organizations, because of the contraceptive mandate. How would you ideally like these cases to be settled?
The U.S. Supreme Court has made it clear with two major decisions that it will not dismantle the Affordable Care Act. They leave that to the political process. However, the court has signaled that it will entertain religious objections to the ACA as it is implemented by regulators navigating new waters without any congressional guidance.
To date, there have been four major ACA-related cases that have reached the Supreme Court -- two of which have challenged the contraceptive mandate. Of the two cases challenging the contraceptive mandate, one ruled against the Obama administration and the other one was sent back to the lower courts to see whether a compromise is possible. Had Justice [Antonin] Scalia been alive, the outcome probably would have been different, with another ruling against the Obama administration on this particular issue.
While both Chief Justice [John] Roberts and Justice [Anthony] Kennedy have upheld the ACA, they have shown tremendous sensitivity to religious liberty objections to specific ACA policies. So we will continue to see more cases being litigated on religious liberty grounds, even if someone less conservative is appointed to the court.
I think the justices got it right with this last case, urging both sides to come back and try to reach a compromise. I am a firm supporter of religious liberty as well as ensuring women have access to the health services they need to reach their optimal level of health, so I would like to see these cases reach a compromise that serves both sides fairly. Because in many cases, the application of these decisions applies not only to birth control, but also to broader women's reproductive issues, such as endometriosis and fibroids.
Where has Obamacare exceeded expectations?
During the debate of this bill, Republicans predicted that the economy would collapse if Obamacare passed. Sen. [Ted] Cruz called it a "job killer." One would have thought the Four Horsemen would appear once the ACA was signed into law by President Obama.
But let's be clear about what has happened since implementation: Twenty million uninsured Americans have gained coverage. Health care jobs have expanded dramatically. Health care stocks have risen. Hospitals on the edge of financial collapse are doing much better (except for those in states that have refused to expand Medicaid and leverage the ACA). And even private sector coverage has grown.
Where has it fallen short?
While the Supreme Court's 5-4 decision to uphold the bill was a huge and necessary victory, the ruling on Medicaid, which gave states the option to expand their programs, has harmed the ACA. It basically paved the way for states, in a brazen attempt to score political points, to deny Medicaid coverage to low-income adults. According to a recent report by the Kaiser Foundation, there are now 3 million uninsured Americans who fall into the coverage gap and would have health insurance today if not for that unfortunate part of the Supreme Court's ruling.
This initial rollout of HealthCare.gov was obviously a problem, but that was fixed and it's now working well, connecting Americans with the coverage that fits their needs and budgets.
The administration and supporters of the law have really had to fight tooth and nail for every success. With a little goodwill from the other side, we could make great improvements in insuring the uninsured, eliminating disparities, and improving the quality of care for all.
Why is health equity so important?
There are considerable disparities in health status and health care among vulnerable populations. Members of underserved groups, such as racial and ethnic minorities, women, people with disabilities, LGBT individuals, veterans, and rural populations, experience a disproportionate burden from discrimination and disease, leading to higher mortality rates and earlier onset of diseases. People in these populations may experience symptoms that go undiagnosed, underdiagnosed or misdiagnosed for cultural, linguistic, historical or other reasons. They also receive delays in accessing vital health services, [get] lower-quality health care and experience worse health outcomes.
What are some of the contributing factors to health disparities in America?
In many respects, health disparities in this country are rooted in poverty and socioeconomic status. Hispanics and African-Americans, for example, experience poverty and lower education attainment at much higher rates than their peers in other racial and ethnic groups. There are well-documented links between these factors and poorer health outcomes, like heart disease, obesity and diabetes.
Lower socioeconomic status makes it harder for individuals to get health insurance coverage, and even when they have coverage, lower-income individuals often have difficulties accessing care due to factors like a lack of transportation, provider shortages in their communities, or the inability to take time off work.
These are just some of the factors we must address if we are to eliminate health disparities and achieve health equity.
---
Join the Conversation
Send your thoughts and reactions to Letters to the Editor. Learn more here [1]